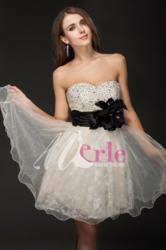 (PRWEB) February 22, 2013
MerleDress is a professional manufacturer and retailer of wedding dresses and other special-occasion dresses. Today, this company introduces its new collection - Cocktail Dresses 2013, which is now available at discount prices as well.
The dresses from MerleDress have a good reputation for their characteristics: high-quality fabrics, fine sparkling beads, exquisite embroidery, proper ruching, nice-looking appliques, and, etc. There is no exception this time for its Cocktail Dresses 2013, which includes the latest three trends of cocktail dresses in 2013: little black dresses, printed cocktail dresses, and lace cocktail dresses.
MerleDress is using its vast knowledge of craftsmanship and consumer needs to enhance and personalize customers' shopping experience.
"Customers' satisfaction is our long-term pursuit and upmost concern," said, Donnie Terry, CEO of the company. "We offer the latest trends in town, so we can completely assure you of looking fantastic and equally beautiful as that woman who is now walking down the aisle."
Moreover, MerleDress places heavy discounts on Homecoming Dresses 2013 collection, Wedding Dresses 2013 collection, and more. At the section of "Prom Dresses on Sale", customers can buy prom dresses at discounted prices, up to 74% off.
MerleDress is a leading wedding dress manufacturer and retailer, and "MERLE" is its trademark protected by the DMCA. MerleDress is famous for its outstanding quality in fabric, materials, and fit without the inconvenience and costs of traditional bridal boutiques and retailers.