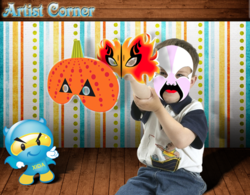 DIY Your Own Masks on iPad
(PRWEB) February 24, 2013
This innovative drawing and painting iPad app provides an excellent opportunity to help kids make creative and enjoyable masks. For most kids, masks add so much fun - not just for Halloween. Masks add to the enjoyment of any game of make-believe.
Artist Corner provides resources for making a variety of masks. Some are deigned to be worn and shown off for playtime and some are works of art to be displayed: animal faces, facial makeups in Peking Opera, Halloween masks, party masks and festival masks. All these masks are in a fairly plain template and default white color. Kids can paint them with favorite color and style that express inner secretive personality and then print them to make masks.
After painting and drawing, kids are encouraged to share self- designed masks to the online gallery to get "liked" and comments from other artists. Also, welcoming masks will bring followers.
Talking about this innovative app, a senior spokes person at Xidasoft said, "We are very pleased to announce the launch of this realistic drawing and painting app, specially designed for kids. We hope kids can create more and more fabulous works here."
Hide your identity in beautiful masks? Try now!
https://itunes.apple.com/us/app/artist-corner/id581862375?ls=1&mt=8
Xidasoft is a company that specializes in IOS apps. It has a dedicated team for development of IOS applications. Creating more and more amazin apps for users is their business and their passion. Stay tuned for developments and be sure to visit the site at http://www.xidasoft.com