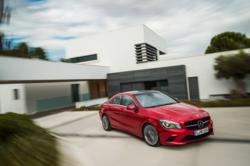 buying a new car can be cheaper than buying a used car
Stevenage, London, UK (PRWEB UK) 22 February 2013
Car dealers are able to offer discounts on new models to help move them, which allows car buyers to experience these savings and experience significant financing deals. The sticker price may not be lower, but all other costs associated with owning the car is lower, which is where car buyers must spend the bulk of their time looking at costs.
New car dealers in Stevenage L & L Automotive have proven their point. A glimpse at their website will show that a used C-Class and a new C-Class can be priced comparably. While the new car will be more expensive, the monthly payment will be lower. This has to do with several things.
The first thing to note is that, because of finance deals, a car buyer is likely going to have to put less of a deposit down on a new car over a used car. Additionally, the interest rates are lower for buying a new car. This means that, for a monthly payment, the cost of owning a new car is considerably less.
This means that it is in all motorists' best interests to check out the finance deals at new car dealers in Stevenage as opposed to focusing solely on the ticket price for a used Mercedes C-Class versus a new one – or any other model for that matter.
Car buyers are also urged to look at what is going on with a used car they are considering. It may already have several thousand miles clocked on the odometer, which can lead to higher maintenance costs. A new car does not have these problems. Therefore there are less maintenance costs within the first few years of ownership.
Why can a car dealership offer better deals on new cars? It often comes down to the marketing budget or campaign money that the new cars come with. This is being used to subsidise the finance costs. Therefore it's much easier to find a low interest rate on a new car. The older a car is, the higher the interest rate can be simply because there is more risk involved to the lender.
L&L Automotive is an automotive retail network with a dealership in Stevenage, Hertford and Bishop's Stortford. They offer both new and used Mercedes and used smart cars to motorists. Those looking for an affordable car can go in and make comparisons between the new and used inventories to see which meets their needs most effectively.
END
Author: David Newman from Mercedes Stevenage
About Mercedes-Benz Hertfordshire - L & L Automotive
L&L Automotive is the driving force behind a dynamic retail network aimed at enhancing sales and after sales services for the region's existing and prospective Mercedes-Benz, AMG and smart customers.
Encompassing retail outlets in Bishop's Stortford, Hertford and Stevenage, the group is operated by L&L Automotive – a company boasting a lengthy and successful history.
L&L's Mercedes-Benz businesses moved into Hertfordshire in July 2002, when it was selected as one of Daimler UK's key business partners in establishing a revitalised national retail structure.
L&L Automotive. is a company registered in England and Wales with company number 4415393
VAT No. 794 6047 92
Mercedes-Benz of Stevenage : +44(0)1438 737800
Mercedes-Benz of Bishops Stortford : +44(0)1279 719333
Mercedes-Benz of Hertford : +44(0)1992 514444