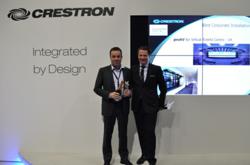 Both winning projects have illustrated proAV's ability to deliver top class solutions to meet its clients requirements
(PRWEB UK) 25 February 2013
proAV has scooped two industry awards at Integrated Systems Europe (ISE) 2013 in recognition of two high profile and very diverse projects that feature pioneering Crestron control and automation solutions.
ISE is the AV industry's flagship event and the Crestron Integration Awards celebrate the best commercial audio visual installations of the year. This year, the panel of judges deliberated over 45 projects and proAV was duly awarded Best Corporate Installation for its Virtual Event Center project and Best Retail Installation for a groundbreaking project commissioned for a global luxury fashion house.
Richard Brookes, Managing Director of proAV was proud to accept the award for proAV and paid tribute another remarkable exhibition booth, which was staffed by 120 Crestron staff who gave over 4,000 delegates a superb experience throughout the 2013 event.
'The ISE show was particularly busy this year. Crestron's latest stand was easy to navigate with zones relevant to each type of technology. We were impressed with the latest product development and innovation involving DM matrix routers up to 128x128, 3-series processors and fusion energy management software to mention just a few of the new offerings on show.
'proAV were delighted to win two Crestron Awards for 2012 projects with Best Retail Installation and Best Corporate Installation. Our business partnership with Creston has gone from strength to strength in recent years and the success of our collaborations are reflected in these awards.'
In response, Robin van Meeuwen, VP of Sales and Marketing at Crestron International acknowledged proAV's systems integration expertise:
'Both winning projects have illustrated proAV's ability to deliver top class solutions to meet its clients requirements,' he said. 'The team knows which Crestron products best suit different installs and manage to create world class projects every time. We were delighted to recognise proAV's hard work on this occasion and are excited to see what it achieves next. Congratulations!'
You can read more about Crestron's world-leading control and automation solutions in our Crestron partner pages.