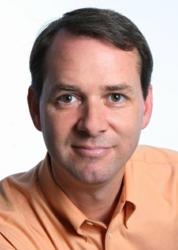 Our PDD will once again be one of the best educational experiences of the year. I am really looking forward to attending...
— Tom Shaw, President, WMPMI
Grand Rapids, Michigan (PRWEB) February 26, 2013
Western Michigan Chapter of the Project Management Institute (http://www.wmpmi.org) is conducting an all-day Professional Development event on March 19th at the Pinnacle Center in Hudsonville, MI. Three world-class speakers will be presenting topics of interest to Project Managers and business leaders.
WMPMI has hosted and facilitated a Professional Development Day (PDD) for many years. The caliber of the speakers and relevance of the topics have made it the high point of the annual learning calendar for area professionals and the roster this year is one of the best ever.
The PDD will consist of two learning tracks. Track one will feature Dan Roan. Dan's morning session will be "The Back of the Napkin: Solving Problems and Selling Ideas with Pictures". This is also the title of Dan's international bestselling book of the same title. Business Week and Fast Company awarded this the best innovation book of the year, and it is Amazon's #5 selling business book. The afternoon session will feature material from Dan's latest book titled "Blah Blah Blah: What to Do When Words Don't Work". Dan has helped leaders at Microsoft, Google, Wal-Mart, Boeing, and the United States Senate solve complex problems through visual thinking. Dan and his whiteboard have been featured on CNN, MSNBC, ABC News, Fox News, and NPR. Dan's visual explanation of American health care was selected by Business Week as "The World's Best Presentation of 2009" and got Dan an invitation to discuss visual problem solving with members of the White House Communications Office.
Track Two's morning workshop will be "Leading Project Teams from Good to Great Writing and Communication" conducted by Lisa McNeilley. Many Project Managers lose time and profitability because team members produce unclear reports. This starts a cycle: poor writing, followed by requests for revision then slightly better writing, and additional requests for revision. In this workshop, Project Managers will learn techniques to guide their teams toward written communication that is clear, effective and productive. The process uses three steps: (1) setting up the writing situation; (2) designing effective templates; and, (3) providing feedback.
Using the CASE System of Writing, this workshop will provide strategies for upfront planning so reports will be on target the first time. Teams will define key areas: Content, Audience, Structure and Editing.
Workshop activities will focus on the following:
1). Developing lists of key decision factors and steps to action (Content)
2). Defining stakeholders and their communications needs (Audience)
3). Designing and revising templates to provide effective writing guidance (Structure)
4). Defining writing standards for clarity and effectiveness (Editing)
Lisa owns Writer's Alley—a company that develops software and services to help students write successfully for high school, college and their careers. They offer an interactive writing tutorial which walks writers step by step through the writing process using prompts that promote critical thinking and analytical skills. Lisa is also an adjunct professor at Aquinas College in Grand Rapids, MI.
The afternoon session for Track Two will be led by Mike Weber and is titled "Breaking the Unwritten Rules: Finding Patterns for Success". This session will look at how we are creatures of habit. We think in patterns and act in patterns. Our habits are the unofficial guidelines that powerfully affect how we behave and interact with others. They are the rules that everyone knows about, no one talks about and yet the rules that govern action and performance. They are the Unwritten Rules that control behavior and sometimes limit organizational performance.
Is "everyone" always late to meetings? Does "everyone" know not to listen to Joe? After all, why would we change? We've always done it this way! What are the unwritten rules in your organization? Do you keep them or change them and what would happen if you could break the unwritten rules? Mike has seen increased productivity, better communication, enhanced teamwork, better job satisfaction and lower turnover as a result of applying his ideas. They are all possible if we re-examine the Unwritten Rules.
Mike's company, Southwestern Consulting™ Leadership Institute, was founded in 1993. The company focuses on developing the skills of academic and business leaders through workshops and conferences. During the past 20 years, Mike has worked from Maine to California, teaching on creativity, leadership, attitude management and the power of change. A much-asked-for trainer and speaker, Mike worked with over 100,000 students and adults last year helping them to change how they act by first changing how they look at life.
Tom Shaw, President of WMPMI said, "Our PDD will once again be one of the best educational experiences of the year. I am really looking forward to attending."
PMI is the world's leading not-for-profit membership association for the project management profession. It has more than 700,000 members and credential holders in 185 countries with 677 of those members in the West Michigan Chapter.