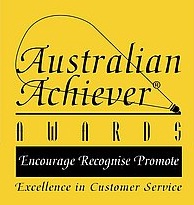 ITtelligent Consulting Services scored a highly recommended 97.14% for IT Support Customer Satisfaction.
Melbourne, Victoria (PRWEB) February 25, 2013
ITtelligent a leading Melbourne firm for IT support, has today announced they received a 'Highly Recommended' award.
The judging process for the 2013 Australian Achiever Awards for Australia's Computer Systems, Software & Internet Services & Supplies category was completed on 14th February.
ITtelligent Consulting Services scored a highly recommended 97.14%.
Now into its sixteenth year, the Australian Achiever Awards are an independent, unbiased award system based on assessment ratings from a business's own customers - an indication of a well run business where satisfied customers are a sign that a business is healthy, worthy of praise and increased custom.
The award system focuses on seven criteria, each scored separately, namely:
Time Related Service, Addressing Client Needs, Care and Attention, Value, Attitude, Communication and Overall Perception. The criteria are rated individually in percentage terms and the final score is an amalgam of these. Anything above 80% overall is regarded as exceptional and reflects outstanding customer service. A complete list of all businesses who have achieved over the last five years can be viewed at http://www.achiever.com.au
Some of the comments Australian Achiever received from lTteIIigent Consulting Services clients are:
They are very easy to deal with, very flexible and they have a "can do" attitude, which l like. They are willing to assist without fuss and, most importantly, they provide great value for money. They are always very willing to find out and follow through on any technical issue which they may not be familiar with and keep me updated.
Their service is absolutely amazing. All queries are attended to in a very efficient manner, they are always available to help and they are extremely professional. Their knowledge, communication and customer service is excellent and they are a pleasure to deal with.
Their overall commitment and turnaround is fantastic as their response time is always very prompt. Rob, the Director, is always available if needed and the guys who come to our office are always very knowledgeable and well presented.
To find out more about ITtelligent Consulting Services Managed IT services offered, visit them at http://www.ittelligent.com.au.
ENDS: For verification of this report, please call
Geoff Harwood, Director, Australian Achiever, 1800 638 318.
About ITtelligent: Since our beginnings in 2006, the ITtelligent philosophy has been:
"We are a Customer Service Company; that just happens to fix IT Systems".
This remains our philosophy today, and is Owner & Director Robert Adelman's favourite saying about how we serve our customers today.
Other companies have tried to mirror the ITtelligent model – our Fixed Monthly Pricing, 5 Minute Response Guarantee, 24/7, 365 days support – but have failed.
The secret to ITtelligent's success? Simple: Our staff! At ITtelligent, we give our staff the freedom to be themselves. Not only are all staff technically trained, they are the forefront of customer service.
We are not happy until the customer is happy!