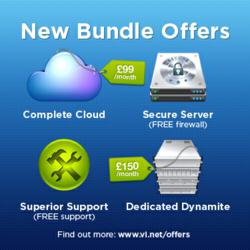 London (PRWEB UK) 25 February 2013
Their specially designed bundles solve the hosting problems of SMEs; whether that is companies looking for a complete cloud server package, better security, improved support or a powerful dedicated server. The bundles are built on VI's core values of Reliability, Performance and Service and are as follows:
Complete Cloud – highly resilient, supreme performance and ultra-secure
Cloud server, two CPU, 2GB RAM, 50GB HDD, server backup and Cloud Firewall.
£99 a month
Secure Server – protect your server free for a year
Free firewall for one year on any Cloud Server.
Superior Support – advanced support service level agreement
Free advanced support for 6 months on VI800 or above.
Dedicated Dynamite – powerful server bundled with security and backup
Powerful VI400 Server, Firewall and Backup. Free setup and first month free.
£150 a month
Patrick McCarthy, Managing Director at Virtual Internet, explained the rational for creating their new packages. "We started to notice a trend in customer enquiries looking for complete packages rather than selecting individual components, so we decided to address this need. As the hosting industry becomes more commoditised, consumers are looking for quick and easy solutions to their problems."
He continued, "Not only are these bundles convenient with great specs, they're also fantastic value for money for SMEs looking to keep their IT spend down in tough times."
Virtual Internet have been providing high availability managed web infrastructure services for businesses since 1996.
For more information on VI's bundles, or to request a quote regarding one of Virtual Internet's products, please do not hesitate to visit their website.