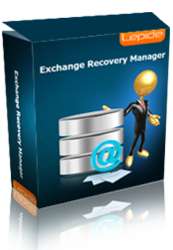 Noida (PRWEB) February 25, 2013
Lepide Software- provider of enterprise level auditing and management solution, announces the launch of Lepide Exchange Recovery Manager Version 13.02.01. The new version of software offers improved functionalities and extended support to the latest versions of MS Exchange and MS Outlook. Inclusion of these features has made this software effective for even those, who are using the latest version of Exchange and Outlook, or those, who are planning to switch to the latest version.
With the availability of new version of LERM, users can simplify working with latest Exchange versions and also use search option more efficiently. Backup extraction process has also got a boost in updated version, as users can now extract complete or only required portion of backups created by third-party software.
New features at a glance:
1. Offers extended support to Exchange 2013 and Outlook 2013
2. Offers additional option at source and destination to add MS Exchange 2013 mailboxes
3. Supports offline Exchange EDB 2013 having both Unicode and non-Unicode characters
4. Option to save search criteria so that it can be further used as per requirement
5. Now supports extracting only required items from NT, Symantec and VERITAS backup apart from full extraction that already exists.
6. Supports granular extraction from offline HP backup.
With these enhancements, Lepide Exchange Recovery Manager will definitely empower its users with feature-packed solution to content with Exchange disasters and resolve other issues and requirements.
Existing Users can upgrade to latest version to receive the latest features while new users making the purchase will automatically get the latest version with all these latest features. Lepide Exchange Recovery Manager is also available in free trial version so that users can evaluate it on their own before making the final purchase.
About the Company
Lepide Software Pvt. Ltd. the maker of this product is a leading provider of IT management and business add on solutions. The company has a number of advanced and proficient products under its portfolio. Lepide Exchange Reporter has received positive reviews and accolades from the Industry experts and takes forward the legacy of the cutting edge solutions that Lepide offers. To know more about the company you can visit the website: http://www.lepide.com.