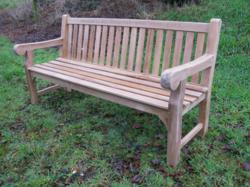 We are honoured to be chosen to help his family celebrate Professor R J 'Bill' Healds recent CBE.
Basingstoke, Hampshire (PRWEB UK) 24 February 2013
Chic teak was recently commissioned to supply a teak 4 seater Riverbank bench for the garden of Professor R J 'Bill' Heald. The sturdy teak bench was given to him by his proud wife and family in recognition for receiving a CBE in 2012.
The 180cm bench was handsomely hand-carved with his name and the 7th November which was the date he was honoured by the Queen at Buckingham Palace with a CBE for services to British Surgery abroad.
Richard John Heald, known to everyone as Bill, received his medical education at Gonville and Caius College, University of Cambridge and Guy's Hospital Medical School in London. He has spent his surgical consultant life at Basingstoke and North Hampshire Hospital as a colorectal surgeon and in doing so has become the world authority on surgery for rectal cancer.
In 1982 he developed and described a new technique of resecting rectal cancers, which he called Total Mesorectal Excision (TME). This technique has been refined to reduce the incidence of local recurrence of rectal cancer. Alongside the major improvement in the quality of life of patients with rectal cancer has been an increase in the long-term survival of these patients, and a massive reduction in those requiring long-term colostomy.
He has operating privileges in more than 40 counties and has performed over 400 TV based live operative demonstrations in more than 40 countries. He runs regular masterclasses in five European cities and has contributed to 33 other international masterclasses across five continents.
Bill has been instrumental in creating the Pelican Cancer Foundation at Basingstoke Hospital, which has been innovative in teaching the multidisciplinary management of rectal cancer. In October 2012 he was invited by the American College of Surgeons to present the Centenary Cancer Commission Lecture at the American College. Later this year he will receive their Honorary Fellowship in Washington. He has served the Royal College of Surgeons as a Vice-President and has received an OBE, followed by a CBE, for services to British Surgery abroad
Chic Teak Managing Partner, Robert Bowden, commented: "The Heald family have been very supportive of Chic Teak and their local Basingstoke community over the years and we are delighted to be chosen to help his family celebrate his recent CBE."
For more information on Chic Teak, their benches, tables, chairs and the carving options, visit their website at http://www.chic-teak.co.uk/ or telephone 0845 390 5000.