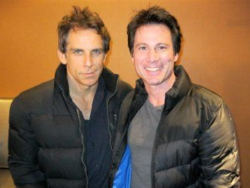 Greg is the preferred stunt double for A-list actors Ben Stiller and Robert Downey, Jr.
Atlanta, GA (PRWEB) February 24, 2013
Greg Fitzpatrick is one of those guys who does it all: a graduate from St. John's University with a degree in English Literature and Writing, Greg has performed on stage, television, and film. However, Greg has earned the most recognition in the entertainment industry through his extensive stuntwork. Since launching his stunt career in 1998, Greg has established himself as one of the most sought-after stunt performers in Hollywood. His film credits include blockbusters like Iron Man, Iron Man 2, Night at the Museum, Tower Heist, Tropic Thunder, Angels & Demons, Along Came Polly, Real Steel, and Starsky & Hutch, just to name a few. In fact, Greg is the preferred stunt double for A-list actors Ben Stiller and Robert Downey, Jr.
Of course, the rough-and-tumble demands of a working stuntman do take their toll. In addition to the daily cuts and bruises, Greg had begun to experience problems with his front teeth. While in Atlanta shooting the Ben Stiller film, The Watch, a friend recommended that Greg pay a visit to Dr. David Zelby, a general dentist and prosthodontist with extensive experience in restorative dental care. During his exam, Dr. Zelby discovered that one of Greg's teeth had a severe fracture and would need to be extracted. Unfortunately, for a man who makes his living on both his physical ability and his appearance, pulling a tooth seemed like an intimidating option.
Luckily, Dr. Zelby was able to replace the extracted tooth with a dental implant, a dental prosthetic that is surgically implanted into the jaw, effectively mimicking the structure of a natural tooth. After the implant had been placed and allowed to heal, Dr. Zelby topped it with a porcelain crown crafted to perfectly fit Greg's smile. In addition, Dr. Zelby placed three other non-implant ceramic restorations and then performed a whitening treatment in order to bring the brightness of Greg's entire smile to a consistent pearly white.
Actors, musicians, politicians, and stuntmen all have to make sure their appearance is up to snuff in order to make a living. However, Dr. Zelby believes that everyone deserves a smile that looks good, feels good, and functions properly. He founded Aesthetic & Implant Dentistry of Atlanta in 1985 and has since established himself as one of the leading experts in prosthodontics and restorative dentistry in the Southeast. To learn more about the full range of dental care services Dr. David Zelby offers, call Aesthetic & Implant Dentistry of Atlanta at (770) 995-0550 or visit http://www.drdavidzelby.com.