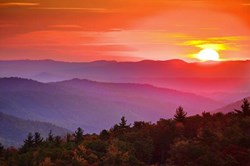 America's Happiest City - Asheville North Carolina
Asheville, North Carolina (PRWEB) February 27, 2013
After decades of research, Real Estate Scorecard reveals the top 10 reasons why Baby Boomers choose to retire in Western North Carolina:

There are hundreds of artists who live near the best of Asheville NC and they don't mind welcoming you into their art studios. For example, in downtown Asheville, NC along the French Broad River in the River Arts District, you'll find 165 year round working artist studios. Thirty minutes to the north in Burnsville NC, the Toe River Studio Tour takes place twice a year where you'll find 100 more local artists opening their studio doors to the public.
BEST COLLEGE TOWNS MAKE YOU FEEL LIKE A KID AGAIN
A lady said to Real Estate Scorecard recently, "If you don't stay young living in this place, it's your own darn fault!" Science has proven a stimulated mind and body improves the quality of our life, especially as we age. Real Estate Scorecard considers Asheville NC to be ahead of the curve by recognizing how desirable this region has become to retirees and delivering community forums geared towards mature adults. For example, the University of North Carolina Asheville founded the North Carolina Center for Creative Retirement. The NCCCR offers an impressive list of lifelong learning courses for mature adults and cultural entertainment on campus.
EASIEST WAY TO SAVE TAX DOLLARS IN WESTERN NORTH CAROLINA
Do you know by living beyond the city limits of Asheville NC, you can save $665 per $100,000 of your home's value in real estate taxes per year. On a $300k home, you will save about $2,000 per year or $166 per month. If you are concerned about real estate tax increases, move to a county whose infrastructure is in place and is up to date. Study the hospitals, public school system and roadways in addition to evaluating the best master planned communities. Study the county's annual budget and future capital improvements. If a county needs to build and expand social services, it would be reasonable to expect property tax increases.
QUICK ACCESS TO METRO CITIES
Getting in and out of Western North Carolina to see your family and friends is quick, easy and is becoming less expensive. Asheville Regional Airport ( AVL ) currently offers the following non-stop flights from these major cities:
Atlanta - Delta Charlotte - U S Airways Chicago - United Detroit - Delta Houston - Continental Newark - Continental Orlando - Allegiant Philadelphia - U S Airways
FARMERS MARKETS, ORGANIC FOOD AND VEGAN VENUES
From the farm to the dinner table, if eating healthy food is important to you, there is no better place to live than in Western North Carolina. How you'll wish you had more time to shop at all the Saturday Green Markets and organic health food stores in the area. The city of Asheville appeals to the most demanding taste buds and health conscious obsessions. Ashevillian's pride themselves on fresh grown mountain produce. Apples, herbs, homemade cheeses, breads, grass fed beef and free range poultry are just a few of the items you can find at the 88 tail gate markets in the Appalachian Mountain range.
MOST POPULAR WESTERN NORTH CAROLINA FESTIVALS
Asheville, NC - Bele Chere Festival
Asheville, NC - Big Band Swing and Dance Weekend
Asheville, NC - Comedy Classic Weekend
Asheville, NC - Festival of Flowers
Asheville, NC - Winter Warmer Beer Festival
Black Mountain, NC - Lake Eden Arts Festival (LEAF)
Brevard, NC - White Squirrel Festival
Hendersonville, NC - North Carolina Apple Festival
Waynesville, NC - Folkmoot USA
THE BLUE RIDGE PARKWAY AND 1 MILLION ACRES OF NATIONAL FOREST
From the Virginia state line at mile post 216.9 south to mile post 469.1 bordering Tennessee and Western North Carolina, this 253 mile stretch is among the most scenic roadways in America overlooking more than 1,000,000 acres of protected national forest. The Blue Ridge Parkway passes through the Pisgah National Forest, Nantahala National Forest and leads to the gateway of Great Smoky Mountains National Park. The Blue Ridge Parkway is easily accessible from Asheville.
MASTER PLANNED COMMUNITIES
Dating back to 1565, the first master planned community in the US was established in St. Augustine Florida. Master planned communities are carefully planned and usually designed around a theme such as golf, tennis, equestrian or beach activities. In Western North Carolina, the are a number of high quality best master planned communities to choose from.
Mission Hospital Asheville, NC - Ranked a Top 100 Heart Hospital
As bizarre as it sounds, your chance of dying in Mission Hospital Asheville are 21% less than a typical hospital according to Dr. Ronald A. Paulus, president and CEO of Mission Health. The Asheville Mission Hospital Health system is ranked among the Top 15 Health Care Systems in the country by Thomson Reuters, a measurement of excellence. Asheville Mission Hospital's comprehensive geriatric specialties serve the community by providing preventive care and inpatient care in the heart of Western North Carolina.
THE RETIREMENT COMBINATION PLATTER
Whether you're a Florida half backer seeking to escape the summer heat or a northerner leaving the frigid winters behind, Western North Carolina offers four mild seasons, incredible mountain beauty, intriguing art, rich culture, quick access to major cities and home affordability. How many more reasons would you need to retire in Western North Carolina?
About Real Estate Scorecard
Real Estate Scorecard writes unbiased real estate reviews providing in depth information about the best master planned communities in Florida, Georgia, North Carolina, South Carolina and Tennessee, all in an effort to help people discover where to retire. Website address: http://realestatescorecard.com