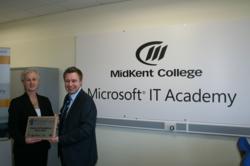 It's a target not many centres will ever reach, which is testament to the hard work put in
Gillingham, Kent, UK (PRWEB UK) 22 February 2013
The Microsoft IT Academy at MidKent College has been named a 'centre of excellence' on its first anniversary.
Launched by the College's Business Services division in February 2012, the academy offers the best in software training to students, members of staff and local employers.
It was named a centre of excellence by Microsoft partner Prodigy Learning for delivering more than 250 exams in its first year of operation.
Prodigy regional sales manager Andrew Griggs visited the academy on Tuesday (19 December) to present a framed certificate to staff.
He said: "We have only about half-a-dozen centres of excellence in the UK and Ireland. It's a really fantastic achievement for any test centre to deliver more than 250 exams – especially in the first year.
"It's a target not many centres will ever reach, which is testament to the hard work put in by those running the academy. They are a credit to MidKent College."
The Microsoft IT Academy offers certified and bespoke training courses covering a wide range of software packages including the entire Microsoft Office suite.
It also provides MidKent College students with the job skills many employers are looking for, while also improving the existing IT skills of the local workforce.
Course administrator Jean Hammond said: "We are really proud of what we have achieved within the first year of the Microsoft IT Academy and are delighted at being named a centre of excellence.
"The fact we have run more than 250 exams already demonstrates a strong desire among students and employees – young and old alike – to learn new IT skills.
"We are confident the Microsoft IT Academy will continue to go from strength to strength, and look forward to welcoming even more people through our doors over the next year."
Visit http://www.mkcbusiness.co.uk for more information on the Microsoft IT Academy and the other services offered by Business Services at MidKent College.