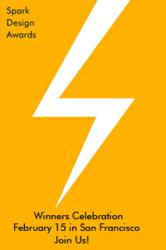 San Francisco, CA (PRWEB) February 24, 2013
"With a record 725 registrations, this promised to be our most exciting celebration ever. And it was!" commented Spark Director Peter Kuchnicki. Design luminaries Dan Harden from Whipsaw, Rob Forbes from Public Bikes and Sam Lucente, consultant and former head of HP design, were on hand for the fun.
"This is great, Peter," Lucente pointed out. "Spark has really grown and made us proud. It's a real accomplishment."
Ayrn Shelander, designer and acrobat in real life, said "It was a great event! The hanging display boards of all the winners were easily viewable and moved slightly in a lively way. Some awesome designers showed up that we were so glad to talk to. And the number of people brought a lot of energy to share the vibes."
All of the Spark Competitions--Product, Communication, Concept and Spaces were represented by winners, finalists and their respective jurors. With over 160 winners, the work was displayed in multimedia, including video, giant projected slideshows, large display boards and a full-sized exhibition.
Another highlight of the evening was the AllSpark Platinum Awards. Famed designer, Index Award co-founder and AllSpark Jury Chair, Arnold Wasserman described the contextual aspect of Spark, and announced the three equal winners chosen by the AllSpark Jurors.
The winners were decided by a group of current and alumni judges from Spark, which strove to choose the three designers from the 2012 winners who best exemplify the Spark ideals. Those winners were:

Yves Behar - fuseproject, for "See Better to Learn Better." This project provides rugged and attractive eyewear to needy children in Latin America.
Franz von Holzhausen - Tesla, for the new Model X. This groundbreaking vehicle combines spacious AWD versatility with all-electric zero emission performance.
Sujin Hwang - Art Center College of Design, for "Blooming." This medical device holds great promise for youngsters who have lost a leg in conflict zones. It expands in size and grows with the children as they grow, thus eliminating multiple, expensive prostheses and providing continuing support.
"All of these are perfect embodiments of what our judges like to call 'Sparky' designs," said Kuchnicki. "We were especially proud to have Sujin on our stage to tell the audience a bit about her goals and design process."
"All in all, Sujin was a wonderful and fitting end to our presentation. Then it was a party filled with joy and hope for a great new designing year!"
How to Participate
Interested parties can participate by joining the Spark community, contributing ideas and attending events like the Spark Winners Celebrations and exhibits. Designers can enjoy the further benefits of entering the competitions, gaining recognition and publicity for their skill and creativity. The entry system is simple and straightforward, with registration at the Spark website: http://www.sparkawards.com.
Bonus Info
Spark is proudly sponsored by Autodesk, Core77, ArchNewsNow, Archinect, Bustler, Pluo Consulting and RIOT Creative Imaging.
SPARK 2013 Competition Schedule
Spark>App—Call For Entry is active
Spark>Concept & Student—Call For Entry March 1
Spark>Communication—Call For Entry April 1
Spark>Product—Call For Entry April 1
Spark>Spaces—Call For Entry April 1
Spark>Mobility—Call For Entry April 1
The Spark Design Awards are an international design competition series with many categories. Spark's core mission is to help create a better world though design excellence. Spark entrants are an extraordinarily diverse group of talented people and companies, from university students, to the world's leading electric car companies and forward-thinking Fortune 500 companies.
The Spark competitions are open to all designers, including students (in Spark>Concept). The Spark Community may be joined at no cost. The Spark competitions have a variety of entry fees, depending upon the event. Submissions are made at the Spark website. Juries, composed of design professionals and experts, meet online and in person to choose Finalists and Winners.
Learn more about this organization and all these competitions at the Spark website landing page at http://www.sparkawards.com.