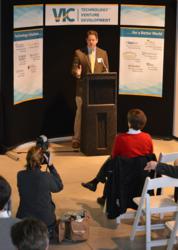 "VIC fills key challenges and gaps for technology based economic development efforts... ...needed to launch successful companies based on university inventions."
Mitch Horowitz, VP & Managing Director of Battelle Technology Partnership Practice
Fayetteville, AR (PRWEB) February 22, 2013
Yesterday, Calvin Goforth, Chief Executive Officer and Founder of VIC Technology Venture Development™ (VIC™), announced the formation of the VIC Investor Network, a new fund that will significantly accelerate and expand technology venture development in Arkansas. The VIC Investor Network will place $250,000 start-up capital into every new portfolio company that VIC forms. Start-up capital is the most difficult funding to acquire. The VIC Investor Network funding will allow VIC to jumpstart its new portfolio companies and significantly shorten the average company development time.
Dr. Goforth made the announcement at VIC's offices, following a presentation by Mitch Horowitz, Vice President & Managing Director of Battelle Technology Partnership Practice of Cleveland, Ohio. Mr. Horowitz led an in-depth 2012 Battelle study entitled Arkansas' Knowledge Economy Initiatives. He spoke about the importance of technology based economic development for Arkansas' future economy, the benefits of the state's incentive programs for encouraging such development, and he introduced the unique role VIC plays: "VIC fills key challenges and gaps for technology based economic development efforts by bringing together the initial management, product development, business development, and administrative teams needed to launch successful companies based on university inventions."
With the VIC Investor Network in place, VIC will now be adding four new companies to its portfolio each year. This is approximately triple VIC's previous rate of expansion. VIC estimates that over 100 high paying jobs of the future will be created in VIC portfolio companies over the next 3 years. VIC will also be adding additional sites across the country as it has developed and proven a uniquely effective business model for translating university research into outstanding young technology companies.
Following today's announcement, guests were able to interact with several VIC portfolio companies showcasing their new products and services, and meet the CEOs and teams advancing them. One company, Ascendant Diagnostics™, is developing a screening test to detect early-stage breast cancer with just a tear sample. Another, CardioWise™, is perfecting a single diagnostic test that will provide unprecedented information about heart health. Yet another, BioDetection Instruments™, has developed an instrument that provides rapid detection of bacteria and other contaminants in food, water, and beverages that is portable, easy to use, and reliable.
For the past nine years, VIC has been quietly building cutting-edge, world-class technology companies in fields ranging from nanotechnology and cancer diagnostics to pharmaceuticals and semiconductors in Northwest Arkansas. VIC has developed a unique business model for forming and developing companies based on licensed early stage technologies from top research universities across the country. Each year, over $60 billion dollars of funding goes into sponsored research at universities resulting in thousands of new inventions. Most of these technologies do not get commercialized because there is a significant gap between the stage at which larger companies will license a technology, or at which most venture capital firms will invest in a technology, and the stage to which the technologies are developed within a university.
VIC's business model was specifically developed and optimized to fill this gap. VIC's method of building companies using a shared resources model where technical, business, financial, and legal expertise are brought together, allows for lower costs and higher success rates. VIC has attracted world-class talent and multiple breakthrough products have been brought to market. Key achievements to date include:

Twelve portfolio companies based on large market potential disruptive technologies
Over $30MM in federal grant funding into portfolio since 2003
Multiple innovative, large market opportunity products brought to market
Average wage of about $90,000
Rapid value growth in portfolio companies estimated at over 40% per year average
Successfully translated VIC business model to Boston, MA area with opening of Atlantic VIC
The VIC Investor Network, combined with VIC's unique business model for technology commercialization, is expected to facilitate unprecedented growth in science and engineering based technology enterprise development in Arkansas.
VIC Technology Venture Development, LLC is a technology venture development firm that creates innovative new companies with world changing science and engineering based technologies. VIC carefully selects and licenses technologies from universities and research institutions, then partners technology entrepreneurs with business experts, technology experts and seed stage investors. VIC provides its portfolio companies with senior management expertise, intimate knowledge of technology startups, and proven processes to execute business strategies. Its team members bring extensive experience across legal, financial, operations, marketing, capital acquisition, and technology management areas. VIC experts help their portfolio companies meet management and business planning goals by providing appropriate support at each stage in their development, only as it is needed.
###