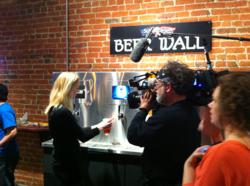 We are trying to match our product offerings to what the consumer demand is currently for beer
Baltimore MD (PRWEB) February 23, 2013
A beer wall? What is that, you ask? A Maryland-based company called Innovative Tap Solutions has designed a mobile beer wall so that customers can self-serve beer and sample as much (up to a two pint limit) or as little (their system measures beer to three decimal places of an ounce!) as they would like. With ever increasing consumer appetites for new flavors, bars are struggling to keep up with a finite amount of taps behind the bar. Enter the beer wall...
"We are trying to match our product offerings to what the consumer demand is currently for beer " says Josh Goodman, the company CEO. "I was personally tired of waiting in line for a beer in busy places and when we saw the natural consumer shift toward craft beer we felt it was time we designed a unit that met those consumer trends proactively. The results have been very positive."
Patrons enter the bar and once their driver's license has been swiped at a control terminal it creates a unique identifier for them. They are given a wristband that has an RFID chip built-in and that tracks their consumption allowing them up to two beers as a limit. Once they hit their limit a staff member has to assess their ability to be re-served and if deemed OK they are re-upped for two more. They pay at the end for what they have used or they can pre-pay if they want to do it that way.
"The software also allows customers to 'reserve a beer' online," continued Goodman. "There are some pretty unique and rare craft beers out there now that people want to get their hands on fast when they show up in their local pub. With our system they can reserve what they want online and those reserved beers are unavailable to others that are just in the pub organically. It's a real traffic driver for bars and restaurants now."
The mobile beer wall that has eight taps for maximum customer choice. "Adding eight taps in a bar setting in the same old way is not an easy proposition from a cost or construction perspective, not to mention the business disruption it would cause, for an existing restaurant," said Declan Duggan, Goodman's partner. "So we made a mobile beer wall that the owner can use to store and refrigerate kegs in and, at the same time, have their customers dispense their own beer samples or full glasses. It's plug-and-play really and customers love it."
http://www.pourmybeer.com is an Innovative Tap Solutions Company. The company was formed in MD in 2008 and made the first commercial mobile self-serve beer tables in the US. It also sells and distributes fixed beer walls, mobile beer walls, fixed draft tables and mobile draft self-serve tables. All mobile equipment is made in the USA. Contact sales (at) pourmybeer (dot) com or call 215-219-9203/443-691-2337