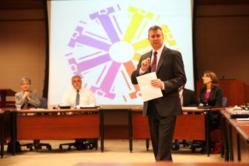 Atlanta, Ga (PRWEB) February 25, 2013
TrueLanguage, a leading provider of professional localization and translation services, today announced that it will hold the next luncheon on the "Global Document Life Cycle – Growth through Global Expansion" in April as part of the company's Luncheon Series designed to provide attendees with information on the "glocalization'" process. Glocalization is a term used within the language services market to refer to the processes involved in preparing a global business to effectively and accurately communicate with persons living in a specific global market.
With the outsourced language services market worth over $33 billion and growing at an annual rate of more than 12 percent, it is important for global businesses to obtain the knowledge necessary to maximize their investment on the "glocalization" of technical documents, marketing materials, software and more. Companies spend considerable dollars every year on establishing a presence in markets outside the U.S. and without detailed processes in place, they can spend significantly more than necessary to rework or edit inaccurate translations.
The featured guest and key note will be delivered by Popeyes Louisiana Kitchen which grew worldwide into the second largest chicken restaurant. The session will be at The Georgian Club in Atlanta, Georgia. For further information and participation please visit the company's website.
About TrueLanguage
Based in Atlanta, TrueLanguage is a full-service professional localization company that provides comprehensive translation, interpretation and localization services based on each client's specific needs. TrueLanguage offers clients a strong combination of professional language experts, centralized project management and outstanding customer service to ensure accurate, compatible, reliable and authentic translation and interpretation in more than 60 languages worldwide. For more information on TrueLanguage and its worldwide localization services, visit http://www.truelanguage.com or contact the firm at info(at)truelanguage(dot)com or 770 850 1205.