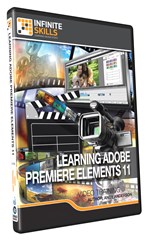 Learn Premiere Elements 11 At Your Own Pace.
(PRWEB) February 25, 2013
Software training firm InfiniteSkills Inc. this week introduced its "Learning Adobe Premiere Elements 11 Tutorial," a course designed for beginning and experienced users of Adobe's consumer-level video editor.
Adobe Premiere Elements is a scaled-down, and much more affordable, version of Adobe's professional video editor Adobe Premiere Pro. While offering many of the same, powerful, features and a similar work environment as its bigger brother, Premiere Elements is much simpler to use, and it isn't weighed down with expensive, pro-level features an amateur video editor would never use.
What Elements does offer is a streamlined, intuitive editing environment with the power to handle unlimited video and audio tracks. It includes advanced features like picture-in-picture, narration options, and a powerful organizer to keep all your personal video files at your fingertips.
With InfiniteSkills' Learning Adobe Premiere Elements 11 Training Video students can master the fundamentals of Adobe Elements and start creating high-quality videos in a matter of hours.
Learning Adobe Premiere Elements 11 Training Video
Course author and Adobe expert Andy Anderson is a career photographer, video expert, professor, and designer, with decades of commercial and artistic publications to his credit. He has authored 17 best-selling books on graphics and design. Focusing on the Adobe Creative Suite line, Anderson works and trains others in using Premiere Elements, Photoshop, Illustrator, Flash, and Dreamweaver.
Working with the insight and perspective of a stellar career, Anderson explains fundamentals like using the organizer and the basic workspace clearly and concisely, and simplifies complex topics such as color correction, exposure, effects, smart fixing, and more.
In addition to the basic workflow navigation and editing effects, Anderson explains advanced techniques such as adding narration, creating transitions, and using Elements in a workflow with Photoshop.
"My ultimate goal," Anderson says, "is that at the end of this course the student will have the basic skill set necessary to create first-rate home videos ready for export to DVDs or web publication."
Free demo videos and a full list of course contents can be found on the Video and Animation with Adobe Photoshop Tutorial training page of the InfiniteSkills website:
http://www.infiniteskills.com/training/learning-adobe-premiere-elements-11.html
InfiniteSkills offers its Learning Adobe Premiere Elements 11 Tutorial either as a DVD or a direct download from the company website at a retail price of $49.95. All InfiniteSkills titles and formats are compatible with Mac and Windows operating systems. Shipping is available around the globe. Additionally, InfiniteSkills tutorials are supported by project files which correspond to examples in the videos, allowing users to work alongside experienced instructors right on their computer or iPad.
About InfiniteSkills Inc.
A leader in the field of software training, InfiniteSkills strives to offer the highest quality training available at an affordable cost. InfiniteSkills tutorials are task-oriented instructional videos, teaching complex skills by providing hands-on examples and guiding users as they carry out critical objectives. InfiniteSkills offers a comprehensive range of software titles available as DVDs, digital downloads, and in iPad editions, keeping with company aim of delivering professional training to customers anywhere they want to learn.