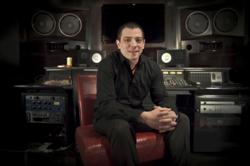 SAE's audio technology curriculum prepared me to work in any field of audio engineering or production.
Atlanta, GA (PRWEB) February 26, 2013
John Maskew is a busy Atlanta-based audio engineer, but he wasn't too busy to celebrate his Grammy win a few weeks ago for his work on Robert Glasper's 2012 album "Black Radio."
"I engineered the recording of Robert's track 'Ah Yeah', featuring the vocalists Musiq Soulchild and Chrisette Michelle," says Maskew. "The amount of musical genius in the studio during the two days that we worked on the song was an experience that I'll never forget, and the Grammy win makes it all that much more amazing."
John's impressive studio resume and vast engineering experience allows him to provide his students at SAE Institute in Atlanta with valuable real-world insights. His involvement with a winner of the most prestigious award in the music business also enhances his credibility.
"SAE's audio technology curriculum prepared me to work in any field of audio engineering or production," says Maskew. "Even with their great training, today's SAE grads will eventually realize that making it as an audio engineering professional takes a lot of hard work, sacrifice, and dedication. They'll need to stay focused and earn every bit of their success."
Maskew was born in Mississippi and raised between Johnson City, TN and Atlanta, GA. He enrolled at SAE's Atlanta school in 2007 when it opened.
"My experience at SAE was everything that I thought it would be and more," explains Maskew. "Around a year and a half after I graduated, the school called me and asked if I'd be interested in speaking to their Sound for Picture classes, since I was doing audio engineering for major film projects at the time. The talk went so well that I became one of the school's instructors."
Between his studio projects, teaching position at SAE, and film work (he's just finished two Tyler Perry movies as well as a new movie featuring Hugh Jackman, Jake Gyllenhaal, and Terrence Howard), John also manages Triangle Sound Studios; runs his own company, Mind Expansion Technology, Inc.; and serves as 2nd engineer at Red Tuxedo Studio in Atlanta.
"The Atlanta market is definitely on the upswing with lots of work available for serious SAE grads," says Maskew. "Studios are hiring, live sound venues are abundant, and the film and TV industry is growing at a tremendous rate."
In terms of advice for his SAE students, John recommends that they always be open minded and ready to embrace unexpected opportunities.
"I wasn't even trying to get in the movie business but before I knew it, I got pulled in quickly – and it's been great," says John. "To be successful as an audio production professional, you have to be able to adapt early in your career, and be able to say 'yes' to every opportunity that comes your way."