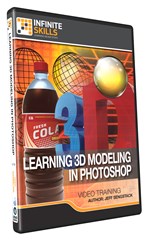 Learn 3D Modeling In Photoshop At Your Own Speed
(PRWEB) February 26, 2013
Software training firm InfiniteSkills Inc. this week released its "Learning 3D Modeling in Photoshop Tutorial," a course designed to explore the little known 3D capabilities that come with the Extended version of Photoshop.
Photoshop Extended offers virtually unlimited possibilities for creating 3D images. Users can create colorful, highly textured 3D text and 3D object models like a soda bottle, a coffee cup, or composite models like a Space Shuttle, and then export those images using a variety of 3D file types.
With InfiniteSkills' Learning 3D Modeling in Photoshop, users can uncover the mysteries of this little-used but amazingly powerful tool and begin creating striking, dynamic 3D models in a matter of hours.
Learning 3D Modeling in Photoshop Training Video - DVD
Course author Jeff Sengstack is an expert in the Adobe Creative Suite software package. He worked as a radio DJ in college, and spent the first decade of his professional career in audio and video production for television. He currently teaches audio and video production on the college level, and has written several instructional books for Adobe products.
Sengstack's brings extensive experience in both the teaching and practice of digital audio and video production to his training. In Learning 3D Modeling in Photoshop, Sengstack's conversational style makes it easy to pick up complex techniques such as working with camera angles and move tools, working with 3D text, and employing textures and maps.
Sengstack also covers finishing techniques such as lighting and light angles, merging multiple 3D layers, as well as animating techniques.
As Sengstack explains, "3D inside Photoshop is like some mysterious treasure buried deep inside Photoshop. Hardly anybody uses it, but it is an amazing feature, there is so much you can do with it."
Free demo videos and a full list of course contents can be found on the Learning 3D Modeling in Photoshop training page of the InfiniteSkills website:
http://www.infiniteskills.com/training/learning-3d-modeling-in-photoshop.html
InfiniteSkills offers its Learning 3D Modeling in Photoshop Tutorial either as a DVD or a direct download from the company website at a retail price of $49.95. All InfiniteSkills titles and formats are compatible with Mac and Windows operating systems. Shipping is available around the globe. Additionally, InfiniteSkills tutorials are supported by project files which correspond to examples in the videos, allowing users to work alongside experienced instructors right on their computer or iPad.
About InfiniteSkills Inc.
A leader in the field of software training, InfiniteSkills strives to offer the highest quality training available at an affordable cost. InfiniteSkills tutorials are task-oriented instructional videos, teaching complex skills by providing hands-on examples and guiding users as they carry out critical objectives. InfiniteSkills offers a comprehensive range of software titles available as DVDs, digital downloads, and in iPad editions, keeping with company aim of delivering professional training to customers anywhere they want to learn.