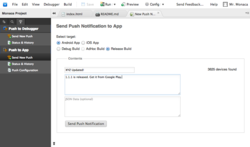 Tokyo, Japan (PRWEB) February 25, 2013
Recently in the world of mobile app development, the utilization of functions such as push notifications and user login that require server-side's capability is becoming increasingly common. App developers have to create not only the front end of the app, but also server-side's program.
BaaS to the rescue! With functions such as user management, push notifications, and data storage, developers are finding it easier to develop complex apps that require backend capability since they need only focus their time on the front-end side.
With this addition of BaaS, Monaca will be transformed from simply a tool for front-end development into a complete platform that supports the entire app lifecycle.
A preview version of this function will be demoed at the "Mobile Word Congress 2013," in Barcelona, February 25th through the 28th (Hall8.1, A29, Asial booth). The public release will be in the middle of March.
Founded on the concept of "Start Creating Apps Right Away!" and in order to achieve an environment that allows developers to create high quality mobile apps easily, Monaca will continue to add new features such as team development and tools for in-app analysis.
Features provided by BaaS
-Push notifications
Developers will be able to send push notifications to their apps.
-User management
Developers will be able to authenticate user login and manage user information.
-Data storage
Developers will be able to store and manage the contents of their database in the cloud. It is also possible to store data per user based.
About Monaca
"Monaca" is a cloud-based development platform featuring native iOS, Android and Windows 8 capability from Asial Corp. It allows developers to create native apps for multiple mobile platforms simultaneously. Bu using the Monaca IDE developers can create, debug and distribute apps in a browser-based environment. This gives considerable savings in time and development costs compared with traditional development methods.
About Asial
Asial Corporation is a technology venture focused on server-side web and mobile application development, management and technical support services.