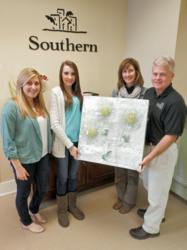 "The daily battle for a cure for cystic fibrosis should not be fought alone, and the team at Southern is committed to the cause," said Mike Shoults, Southern Vacation Rentals owner.
Destin, Fla. (PRWEB) February 22, 2013
Southern Vacation Rentals -- whose vision is to be the most caring vacation rental company in Northwest Florida -- has been honored by the Cystic Fibrosis Foundation (CFF) for its many years of contributions, through a gift to owner Mike Shoults and his wife Nancy. Presented by 13-year-old Megan Hutchison, who was born with cystic fibrosis, the glass painting was donated by local artist Mary Hong, owner of Wired Glass Studio in Destin.
"The support we receive from Southern Vacation Rentals is amazing and so important to furthering our efforts to find a cure for cystic fibrosis," said Claudia Werner, senior development director for CFF. "From stays we are able to use in auctions and prize drawings across the state, to lodging when our team is in town for an event, these donations keep our operating budget to a minimum and direct more to the science that is making a difference in cystic fibrosis."
"Megan and I are thrilled to present this recognition to the Shoults family," said Laurie Hutchison, Megan's mother and Great Strides chair. "The whole Southern family has done so much to help us in the fight against Cystic Fibrosis, and the funds they have raised for research will ultimately find the cure that will save Megan's life. As a mother, I can never thank them enough for that."
Southern has long contributed to CFF events, raising money with their Southern Volunteer teams since 2008 and most recently hosting the 65 Roses Night of Hope at the Destin Bay Hous e, a Southern property. Additionally, at the upcoming Great Strides Walk at Village Baptist Church in Destin on April 20, 2013 and in Pensacola at Seville Square on May 25, 2013, participants have the chance to win a Southern Florida gulf coast vacation rental through an event prize drawing. For the past six years, Southern has donated countless stays for use in other events across North Florida, as well hosted CFF staff locally. Additionally, the teams of Southern Volunteer employees have generated thousands of dollars each year through the local Great Strides Walks.
"It is the very least we can do to support our good friends, the Hutchisons, and their daily fight for a cure for cystic fibrosis. This battle should not be fought alone, and the team at Southern is committed to the cause," said Mike Shoults, Southern Vacation Rentals owner.
Great Strides is the Cystic Fibrosis Foundation's largest national fundraising event. More than 250,000 walkers come together each year as one community for one cause…to help find a cure for CF. Great Strides Destin kicks off on Feb. 28, 2013 at 11:30 a.m. at a luncheon at Bonefish Grill, during which time CFF team members and beneficiaries will share stories about the impact local donors have on fighting for a cure. To RSVP to attend the kick-off luncheon, please contact Laurie Hutchison, event co-chair, at lhutch1(at)cox(dot)net. To sign up as a team or individually for Great Strides, visit the CFF website at cff.org/greatstrides.
Southern has been one of the leading vacation rental and property management companies in Northwest Florida since 1995, currently representing nearly 800 short term and 750 long term rentals, 30 associations and countless real estate properties throughout Pensacola Beach, Fort Walton Beach, Destin, South Walton, Panama City Beach and the Forgotten Coast. Owned and operated by two sets of brothers, Mike and Brad Shoults and Kevin and Kerry Veach, Southern is a family and community oriented company whose mission is to exceed customers' expectations by providing the highest quality, most caring services in Northwest Florida. Ready. Set. Go Southern!
For more information about Southern, visit http://www.GoSouthern.com or call 855-844-7356.
# # #
About the Cystic Fibrosis Foundation
Cystic fibrosis is a genetic disease affecting approximately 30,000 children and adults in the United States. The Cystic Fibrosis Foundation was established in 1955 to assure the development of a means to cure and control cystic fibrosis and to improve the quality of life for those afflicted with the disease. When the Foundation began, few children with CF lived to attend elementary school. Today, the median age of survival for a person with CF is 38 years. However, young lives are still lost every day to this disease. To join a Great Strides team, pledge a donation or just learn more about becoming involved with the Cystic Fibrosis Foundation, visit http://www.CFF.org or call (904) 733-3560.