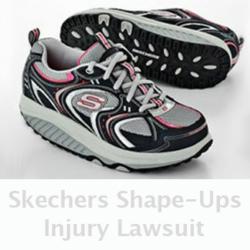 Wright & Schulte LLC, is dedicated to helping those injured by Skechers Shape-Ups receive the compensation they deserve. Call 800-399-0795 or visit www.yourlegalhelp.com today for a free consultation!
(PRWEB) February 22, 2013
A Skechers lawsuit has been filed by the product liability lawyers at Wright & Schulte, LLC on behalf of a woman from Health, Ohio. According to the complaint, the plaintiff regularly walked in Skechers toning shoes for more than one year, which caused her to completely tear her left Achilles tendon. These injuries, allegedly caused by wearing Skechers Shape-ups, required the plaintiff to undergo extensive and expensive medical treatments. This Skechers Shape-Ups lawsuit was filed on January 28, 2013 as part of MDL 2308, in the U.S. District Court of the Western District of Kentucky, Louisville Division. This Skechers achillies tendon tear lawsuit case (Case No. 3:13-cv-00174-TBR) identifies the defendants as Skechers, U.S.A., Inc., Skechers, U.S.A., Inc., II and Skechers Fitness Group, all of which are California-based corporations.
Wright & Schulte, LLC is experienced in defending the rights of those who have suffered severe injuries after using products with defective or dangerous designs. Our experienced product liability attorneys have a proven track record of successfully going up against large corporations. If you've been injured and suffered an achillies tendon tear, achillies tendon rupture, achilles tendonitis, broken or fractured foot, broken or fractured ankle or any injury and were wearing these toning shoes, speak with our Skechers lawyers by visiting yourlegalhelp.com or by calling 1-800-399-0795.
Skechers lawsuit Allegedly Caused by Wearing Skechers Shape-Ups Toning Shoes
According the court documents, the plaintiff purchased Skechers Shape-Ups in November 2010. Within weeks of the purchase, she began wearing these toning shoes daily for extended periods of time. In March 2012 while wearing her Skechers toning shoes, the plaintiff heard a pop and immediately began to experience intense pain in her left ankle. Although this injury was initially diagnosed as a sprained ankle, an MRI later revealed that the plaintiff had completely torn her left Achilles tendon. This alleged Skechers achillies tendon tear injury required the plaintiff to wear a cast and undergo various medical treatments, including physical therapy.
Skechers Achillies Tendon Strains and Tears May Result From Wearing Skechers Shape-Ups Toning Shoes Warns Doctors.
A growing number of doctors are warning that toning shoes could cause injuries by, among other things, changing a person's gait, or way of walking. Claims that toning shoes can significantly contribute to a person's fitness are "utter nonsense," says Barbara de Lateur, distinguished service professor of physical medicine and rehabilitation at Johns Hopkins University's School of Medicine in Baltimore.
De Lateur and other doctors warn that wearing the shoes can result in strained Achilles tendons. De Lateur also says the shoes can be a particular problem for older consumers or those who have difficulty keeping their balance.
(http://usatoday30.usatoday.com/sports/2010-06-30-toning-shoes_N.htm)
Skechers: The $40 Million Skechers Shape-Ups Settlement
Court documents go on to charge that the defective rocker-bottom design of Skechers Shape-Ups caused the plaintiff's injuries. While the complaint accuses the Skechers corporations of failing to perform any safety testing after reports of Skechers injuries had surfaced, it also alleges that Skechers failed to warn consumers about the risks associated with Skechers toning shoes injuries. Court documents also specifically cite Skechers' own statements in its product literature; these statements imply that, if any injury was thought to be caused by the shoes' unstable design, it must have actually been caused by the consumer's misuse of the shoes.
The complaint then directly spotlights Skecher's former negligence by pointing out that a May 2012 judgment had ordered Skechers to pay $40 million to settle charges regarding how the company had deceived consumers with regard to their Skechers Shape-ups and other toning shoes. The misrepresentation and deception by Skechers included false claims that wearing Skechers footwear could improve muscle tone and strength, increase overall circulation or aerobic conditioning, result in increased weight loss or loss of body fat, and/or result in improvement or reduction of body composition. (http://www.nbcnews.com/business/skechers-pay-40-million-over-deceptive-ads-775405)
About Wright & Schulte LLC
Wright & Schulte LLC, an experienced personal injury firm, is dedicated to the belief that America's legal system should work for the people. Every day, the attorneys of Wright & Schulte LLC stand up for the rights of people who have been injured or wronged by defective drugs and their side effects, complications from defective medical devices, and unsafe consumer products, and fight tirelessly to ensure that even the world's most powerful corporations take responsibility for their actions. If you're looking for a law firm that will guarantee the aggressive and personal representation you deserve, please do not hesitate to contact Wright & Schulte LLC today. Free Skechers achillies tendon tear lawsuit case evaluations are available through yourlegalhelp.com or by calling 1-800-399-0795.
Contact:
Wright & Schulte LLC
812 East National Road
Vandalia, Ohio 45377
1-800-399-0795
http://www.yourlegalhelp.com