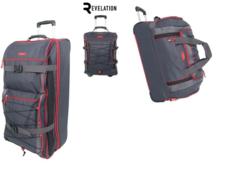 you can see that this range is designed for the young or even young at heart
Kent (PRWEB UK) 26 February 2013
The Revelation Whistler is a range designed for exploring with and aimed at the adventurous traveller. A fantastic choice of a Mega Decker trolley, a Double Decker trolley bag, a large, medium or small Trolley bag is provided in the range. The Whistler bags are made from extremely tough and durable material that can cope with many journeys over the baggage belt, airline handling , weekend trips, and camping--just name it and these bags can stand up to the challenge. The locking trolley system brings control and therefore easy travelling. The convenient front pockets provide room for extra packing and ease of access. The range is created with compression straps which assist in compact packing and it also brings a pleasing design to the bags. The wheels are smooth gliding sports wheels making travelling with the bags a smooth journey--literally.
"By simply looking at the bag...." says Paul Steadman, Managing Director of Luggage Superstore, "you can see that this range is designed for the young or even young at heart, and it is trendy and rugged looking, making it suitable for the outdoor lifestyle."
Whatever the journey, the Revelation Whistler is a cool range that can be used to accommodate travelling items. So the next weekend that's free, consider it a holiday and grab a Revelation bag to take along and enjoy.
Luggage Superstore's established site is in West Kingsdown, Kent. Their aim is providing competitive prices of the highest quality luggage and top calibre Customer Service for online luggage shopping. Luggage Superstore recommends Antler.
Trina Chee-a-kwai
Luggage Superstore
01474854666
Email Information