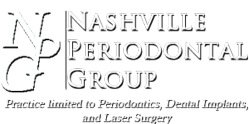 Nashville, TN (PRWEB) February 22, 2013
Nashville Periodontal Group is now including patients from Columbia, TN with receding gums in their gum grafting procedures. Gum graft surgery not only improves the way that a patient's smile looks, but also can help to save teeth that can become loose when gums recede too far. The sooner dental issues like these are treated, the less likely they are to cause additional problems.
Gum disease is a huge problem in America and around the world. Millions of adults suffer from the problem every year. Some of the symptoms include sensitive gums that may be painful when hot or cold foods and liquids are consumed. In addition, many find that their gums bleed easily when they are brushing their teeth. The progress of the disease often includes receding gums, which means that more of the teeth are exposed to the ravages of plaque and bacteria.
A dental procedure used to increase the amount of gum tissue is a gum graft surgery. The procedure requires tissue taken either from the patient or from a tissue bank to be sutured to the existing tissue. Over time, it heals together and the overall line of the gums has been raised. This procedure may be necessary if gums have receded because of gum disease, or if a patient simply feels that they have too much tooth area showing and want a more aesthetically pleasing smile.
There are three basic types of grafts that are most commonly used, and the type of graft selected will depend on the individual needs of the patient. The majority of patients receive grafts of their own tissue taken from the roof of the mouth, while some may receive a graft from adjacent gums that have excess tissue. Additional information about gum graft surgery and the types of grafts that can be used is available at http://www.nashvilleperio.com.
Nashville Periodontal Group is a periodontal practice offering patients' personalized dental care for Nashville, TN. Drs. Akin and West are part of one percent of dental professionals providing the most recent FDA cleared laser procedure for gum disease and periodontal treatment. Along with laser dentistry they have a strong focus on patient education on gums. To learn more about Nashville Periodontal Group and their dental services visit their website at http://www.nashvilleperio.com and call (615) 800-3686.