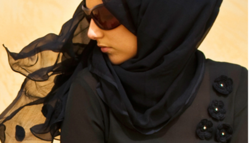 I ventured to the markets to find fabrics that appealed to me and designed a few simple Abayas that made me look and feel confident and actually enjoyed wearing.
(PRWEB UK) 26 February 2013
During the past decade, Islamic fashion has become much more prominent worldwide. Muslim women living in the western world now have the sort of fashion choices available to them that would have been inconceivable 20 years ago. The British market for this type of clothing is particularly large, with a number of different fashion brands keen to make their mark in the industry.
One sign that Islamic clothing is becoming more a mainstream feature of the fashion industry was it's strong presence at last year's Jakarta Fashion Week. Indonesia is the world's most populous Muslim country, so Jakarta was the perfect place for a display of new Islamic trends. Organisers were keen to present collections from a large number of Muslim designers because they wanted to dispel some of the preconceptions that many people may have about this type of clothing.
Indonesia is a world leader in the production of Islamic fashion; the country produces billions of dollars worth of clothing every year and supplies other Muslim countries such as Malaysia and the United Arab Emirates. In the end there were dozens of Muslim fashion pieces on display in Jakarta, from simple, everyday designs to lavish head pieces decorated with tassels and pom-poms. Designer Jeny Tjahyawati's collection was particularly praised, mixing traditional Muslim dress with contemporary trends to create some striking and colourful looks.
One of the brands trying to make an impact in Britain is Aab Collection. Aab was established in London in 2008 and their online store was launched soon after. Since then, the company have developed a loyal customer base that can't get enough of the stylish Islamic fashions they produce. Aab Collection founder and head designer Nazmin Alim thinks that there was a lack of both quality and variety in the choice of Muslim clothing in the UK, "Making the decision to wear the Abaya, I found there was a lack of suitable Abayas in the UK market, especially for working women like myself. [I had a] desperate search to find something other than poorly made black polyester, with strands of thread hanging loose and looking anything but smart or even remotely elegant". Nazmin decided to take matters into her own hands after struggling to find fashionable Islamic women's clothing, "I ventured to the markets to find fabrics that appealed to me and designed a few simple Abayas that made me look and feel confident and actually enjoyed wearing".
Aab are one of the few fashion retailers who take control of the whole production process from design right through to sale. They have developed their brand by making sure that any clothing they produce is immediately recognisable as being from the Aab Collection. One of the best things about keeping this level of involvement in their product development is that they can ensure that all their clothing is of the highest quality and that no child labour was used during the process. As a result, they have created a unique and elegant collection of Muslim fashion that has been described by popular fashion blogs as a "grown-up range of subtle clothing" that is "the epitome of casual luxury".
For more information about Aab Collection please contact Altaf Alim by emailing, altaf(at)aabcollection(dot)com or visit aabcollection.com to browse their range.