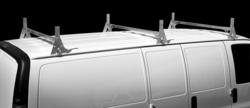 "Built to last."
Sturtevant, WI (PRWEB) February 24, 2013
Topper Manufacturing has introduced its new double bar van racks. This new van rack mounts to the gutter utilizing Topper's patented mounting system, and is manufactured from the same high-strength steel you come to expect from a Topper rack.
Like all of Topper's racks, their double bar rack is hot dip galvanized after fabrication for a rust-free, abrasive-resistant finish that is unmatched in the industry. Other coatings, such as powder coatings, damage easily during rough handling on the job site. However, galvanized Topper racks have a proven protection against damage by rough handling at the job site as well as during its service life. "Because of the long life of the hot dip galvanized coating and its virtually maintenance-free performance, galvanizing is consistently a better value than paint over a structure's life." (American Galvanizers Association)
The innovative Topper double bar rack is ideal for those who want the strength and durability of a full-size rack at a fraction of the cost. Available with a third center bar for added support, this new rack is ready to handle even the toughest jobs.
Topper Manufacturing makes and markets a full line of van and truck racks, including accessories to make the transportation of your materials easier.