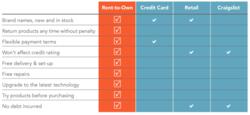 We are in the business of making people's lives better starting with their home.
Austin, TX (PRWEB) February 26, 2013
The rent to own industry trade association launched ShopRTO.com after consumer research showed Americans know very little about rent to own home furnishings. ShopRTO.com provides home living tips while educating the consumer on the many aspects the rent to own transaction provides when shopping for affordable home furnishings.
Consumer surveys and focus group studies conducted by America's Research Group and Trenholm Research show 75% of U.S. consumers do not understand or know how the rent to own transaction works. And what the survey participants did mention, many of their perceptions were incorrect.
Many consumers believe that renting to own a refrigerator means a long term financial commitment when, in fact, the $7 billion industry has been built through the no obligation, no debt features of the rent to own transaction.
"It's very frustrating each time we conduct this research to find out that the average American either doesn't know rent to own exists or know very little and only from a commercial they may have seen," states Davd P. David, the national trade association president.
The Association of Progressive Rental Organizations (APRO) launched ShopRTO.com because the research showed that 98% of the survey participants used the Internet as their first step when shopping for home furnishings. One of the primary goals is to explain the fundamentals of the rent to own transaction.
Rent to own is not a lease in the fact that the consumer can return the product at any time for any reason at no penalty. Rent to own is not a credit sale because the consumer never incurs debt. But, if the consumer rents the product on the terms the consumer chooses then the customer can end up owning the item.
"What we really want from ShopRTO.com is to provide home living tips for Americans and if rent to own can help them live a better life then shop rent to own. We are in the business of making people's lives better starting with their home."
About ShopRTO.com:
ShopRTO.com provides affordable home furnishing tips and trends for Americans on a budget and when rent to own is the best choice for your home.