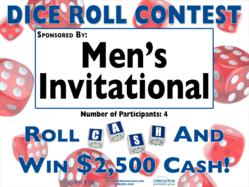 We at US Hole In One love to provide prize insurance games to increase exposure to your event!
Bryn Mawr, PA (PRWEB) February 24, 2013
US Hole In One, a leading provider of hole in one insurance for golf outings and tournaments, announced their new products for 2013. Having served the needs of tournament directors and outing organizers in the golf industry for years, US Hole In One is now offering its hole in one insurance customers new options to make their tournaments even more exciting! For the first time US Hole In One now offers premium bonus prizes and also an add on dice roll contest.
Greg Esterhai, President and CEO of US Hole In One, is truly excited at the progress that US Hole In One is making and feels that their customers will be very much pleased with the new services. Esterhai was quoted, "We are thrilled to be able to offer our customers something new and exciting. It is a great improvement for US Hole In One because we feel it is a big boost to our already astonishing customer service and satisfaction. US Hole In One wants to help make our customer's tournaments even more successful than they were the year before by providing them new and innovative services year after year."
The premium bonus prizes that US Hole In One now offers includes upgraded prizes from their standard bonus prize package. Customers are able to purchase this upgraded premium bonus prize package for just a small fee. This premium bonus package is sure to cause a little shake up, in a good way, to their tournament from years in the past. It is a simple, but very effective way to give some change to your loyal supporter and attract new ones with even better hole in one bonus prizes. The premium bonus prizes include:

Apple Package (iPad , iPod Nano & $100 Apple Gift Card)
Callaway Irons (3-PW) and Woods (1, 3 & 5)
a $750 Visa Card
Along with the addition of the premium bonus prizes, US Hole In One is also adding an add on dice roll contest. Esterhai stated, "Many tournament coordinators in the past have been asking for something that they could easily incorporate in to dinner after they are done on the course for the day. A dice roll gives them that extra something. It is really the chance to roll some excitement into their event!" Four golfers get the chance to win $2,500, $5,000, or $10,000 by rolling C-A-$-H. The dice roll contest is as simple as that.
Greg was quoted, "Our customers are the reason we are number one in the hole in one insurance and we are delighted to provide them with more exciting options for their events. We're passionate about golf tournaments and even more passionate about our customers."
US Hole In One is a leading provider of hole in one insurance for golf tournaments and other sporting events. Each year, US Hole In One and its sister company, Interactive Promotions Group covers over $400,000,000 in prize insurance for golf and other onsite and online promotions. Additionally, US Hole In One specializes in high-quality, temporary-use event sponsorship signage and offers thousands of promotional items to event organizers across the country.