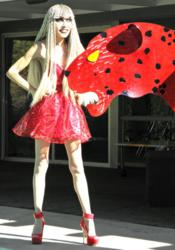 "The sculptures of Karen & Tony Barone are practically legendary" (... The Desert Sun)
Rancho Mirage, CA (PRWEB) February 24, 2013
Karen & Tony Barone, wife & husband artist team who reside in Rancho Mirage, California have created an enormous prowling bright-bright, iridescent red "Jaguar - God of the Night" sculpture with piercing yellow eyes. The 10 foot long shiny reflective aluminum artwork will greet the haute couture fashionistas as they approach the entrance to the "Big White Tents" during Fashion Week El Paseo 2013, an 8 day event.
The artist couple work side by side in the execution of their very large-scale sculpture and paintings which are exhibited and acquired worldwide. This is the sixth year the couple has worked with Susan Stein, Fashion Editor, Palm Springs Life, to provide colossal dynamic sculpture for the event.
Fashion Week El Paseo unfolds March 15-23, 2013 under the "Big White Tents" on Larkspur between El Paseo and Shadow Mountain in Palm Desert, CA --- the heart of Palm Desert's most celebrated shopping district: El Paseo. For updates, a complete schedule of events and tickets visit http://www.fashionweekelpaseo.com. To view more works by Karen & Tony Barone, visit BaroneArt.com.