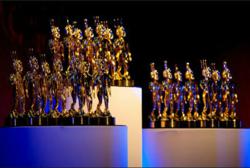 Neptune Trophy 2013
(PRWEB) February 25, 2013
2013 is the eighth year of the World Superyacht Awards, and this year promises to produce some highly deserved winners. The Boat International Media organisation has meticulously refined the elite list of superyacht nominees into an exclusive list of finalists, who are now only one step away from being awarded one of the highly sought after Neptune Trophies.
Expert judges will soon meet to select 14 winners who have been classified on the basis of the type and size of each superyacht. Following consultation with naval architects and yacht builders, different yacht award categories have been established allowing yachts to be judged against other vessels of similar specifications.
With two industry specialists and twenty luxury yacht owners in their ranks, the jury will soon be visiting those few remaining vessels that, as yet, have not been seen. In addition to the individual reports presented to the judges, the owners also provide comprehensive dossiers, which contain photographs, diagrams and specifications so that the jury understand the finer points of these splendid vessels. Only then will the jury members make their final and extremely difficult decision that will remain a secret until the grand presentation ceremony in May 2013. While there can only be one winner for each award, all of the contestants know that being selected as a finalist is a huge achievement in itself, and one they can be rightfully proud of.
The winners of these coveted prizes will be declared on 4th May 2013 during the glamorous gala evening at the historic Çiragan Palace Kempinski, in Istanbul. Once the home of sultans, this stunning hotel is a former Ottoman palace on the shores of the Bosphorus, more commonly known as the Istanbul Strait. The romantic setting and constant five star reviews of this hotel make it a perfect venue for such a prestigious international event.
Cindy Brown, luxury yacht broker and owner of Ultra Marine Yacht Charters, commented "some of these magnificent vessels already are or will become luxury yachts for charter in the future, giving the public the chance to experience an award winning superyacht at sea. For those with a passion for magnificent luxury yachts, the World Superyacht Awards is a glamorous ceremony not to miss." Booking a yacht awards ceremony table is subject to approval once your application has been reviewed. Priority must be given to superyacht owners and the teams of the selected finalists.
Ultra Marine Yacht Charters, the exclusive yacht charter company based in New York, is dedicated to offering an un-paralleled confidential service and providing the expertise required to ensure you experience an unforgettable luxury charter. We specialize in luxury yacht charters worldwide including - Motor yacht charters, sailing yachts for charter, corporate yacht charters and super yacht charters. Contact our expert team for more information on booking a yacht on + 212 423 9280 or visit the website: http://www.ultramarineyacht.com.