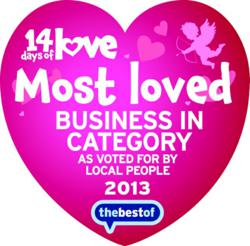 I researched Milo's symptoms and discovered he had an allergic reaction to wheat, so I changed his diet and tried him on a hypoallergenic dog food diet and his health improved dramatically
Bolton, Lancashire (PRWEB) February 22, 2013
"The Fourteen Days of Love campaign aims to raise awareness of local businesses and prove that surrounding communities can make a massive difference to a town's prosperity," said Stephen Ward, retailer of wheat free dog food.
'thebestof' began in 2005 and is dedicated to supporting businesses in the UK. They cover almost three hundred areas within Great Britain and help more than thirty thousand businesses with networking and promotion.
'thebestof' has received an unprecedented amount of recognition over the last few years with their most recent accolades including the Creme De La Creme Business Award winner 2012 and Best Business Award winner 2011.
"Support for independent businesses is vital for their survival and this campaign has really shown Bolton's loyalty for its local independents. I'm really proud that our company has won and would like to say a big thanks to everyone who voted for us," commented Stephen, national distributor of wheat free dog food.
During the competition, thousands of reviews were added equating to one almost every eight seconds.
'bestof' franchise owners, David and Gaynor Ramsden added "The locals here in Bolton have really done their bit and made this campaign a great success"
David Ramsden of the Best Of Bolton said, "It's really encouraging to see such a large number of local people voting. I'm really pleased for Stephen and his team at Heights Farm, they thoroughly deserve it"
Established in May 2009, supplier of wheat free dog food, Heights Farm Premium Pet Foods, started after Stephen's own dog Milo was diagnosed with a food allergy.
"Milo, my French Mastif wouldn't settle at night and was constantly scratching himself," explains Stephen. "I took him to my local vets and they prescribed a specialist food for large breed puppies, which turned out to have a high wheat content," added Stephen.
"Milo didn't seem to improve, and so I took him back, he was then prescribed steroids, but I knew these could be dangerous," said Stephen
"I researched Milo's symptoms and discovered he had an allergic reaction to wheat, so I changed his diet and tried him on a hypoallergenic dog food and his health improved dramatically."
Because of Milo's condition, Stephen began to research the contents of various pet foods in an effort to find out what caused his dog's allergic reaction.
He was shocked to find out that some of the top pet food brands added lots of potentially harmful additives to their products.
"Many of these well know brands have huge advertising budgets and are perceived as being a high quality dog food, it couldn't be further from the truth," said Stephen, supplier of hypoallergenic dog food.
Armed with this knowledge, Stephen searched the UK for manufacturers of premium hypoallergenic dog food, and once he found the ideal suppliers, he started his company and the brand now known as Height Farm Premium Pet Foods.
His business has grown rapidly and includes a very loyal customer base, reflected in his recent Most Loved Business award. They now provide premium pet food, treats and other pet supplies which can be delivered free locally, seven days a week. The products are also available nationally through his extensive website.
Because of Height's success, they have begun to specialise in food for large breeds, like St. Bernards and last year, Heights were contacted by the owner of a very famous dog known as Schnorbitz.
Richard De Vere's dog is the fourth generation descendent of the original Schnorbitz owned by UK entertainer Bernie Winters.
Richard said, "Schnorbitz suffered various problems and after feeding him with Heights Farm Large Breed Adult Chicken, his health is much better and he's a much happier dog."
"When Richard called us about his St Bernard, we really happy to help, I remember Schorbitz well from my childhood," said Stephen
Stephen added, "I recommended this particular type of food as it benefits from a full joint pack of Glucosamine, Chonodroitin and MSM, all of these benefit a dog's joints and bones"
This relationship has now grown in to a sponsorship deal.
Stephen added, "Having a high-profile dog like Schnorbitz promoting our products will really help our brand and in turn I hope this sponsorship deal will bring much needed publicity to the health of our nation's pets"
Press release by Manchester SEO specialists - Vizcom Design