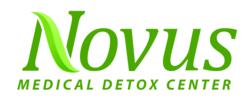 We joined the NAATP to learn from other industry experts and provide our own references, resources and information for others to use in addiction treatment
New Port Richey, FL (PRWEB) February 25, 2013
Novus Medical Detox, a Florida detox center with a 90% completion rate of people who commence their medical detox at the facility, recently joined the National Association of Addiction Treatment Providers (NAATP). Novus agrees with the mission of the NAATP in having a strong commitment to providing those with addiction problems a new beginning at a sober, clean, normal and productive life.
Novus' joining the NAATP allows Novus to unite with other industry experts. The NAATP and its active members set the standard for quality services to those suffering from addictive diseases. The organization (and the over 600 treatment facilities it comprises) strive to provide leadership, advocacy, training and other member support services to assure the highest quality of addiction treatment.
Novus believes that its own mission to educate the public regarding credible drug-treatment programs, which are typically 30, 60 or 90 day rehab programs, in order to deter abuse, dangerous withdrawal symptoms and even death fits well with the NAATP's purpose. Novus has proven expertise in medical detox and is confident in teaching other healthcare professionals about their unique proprietary medical protocols. Novus is often called upon to speak at various conferences around the country, including its most recent speaking engagement at the 2012 Moments of Change conference. That event covered innovation in integrated treatment, and examined methods that have proven to be effective in helping individuals through the withdrawal and recovery processes.
Novus' drug detoxification protocol pays particular attention to strengthening their patients' bodies through their branded I.V. vitamin cocktail that is tailored to make the detox process as painless as possible. This nutritional vitamin protocol is an advanced medical discovery that allows Novus to handle the toughest of drug abusers, and is tailor-made to the individual's needs, and physical condition.
"We joined the NAATP to learn from other industry experts and provide our own references, resources and information for others to use in addiction treatment," commented Kent Runyon, Executive Director at Novus.
For more information on Kent Runyon and Novus Medical Detox's addiction and detox programs, visit http://www.NovusDetox.com.
About Novus Medical Detox Center
The Novus Medical Detox Center offers safe, effective alcohol and drug treatment programs in a home-like residential setting. Located on 3.25 tree-lined acres in New Port Richey, Fla., Novus is licensed by the Florida Department of Children and Families as an in-patient medical detox facility. Novus is known for minimizing the discomfort of withdrawal from prescription medication, drugs and alcohol by creating a customized detox program for each patient, incorporating medication, natural supplements and fluid replenishment—putting dignity and humanity back into drug detoxification. Patients have 24/7 medical supervision, including round-the-clock nursing care and access to a withdrawal specialist, and enjoy comfortable private or shared rooms with a telephone, television, DVD player and high-speed Internet access. For more information on Novus Medical Detox Center, visit http://www.NovusDetox.com.