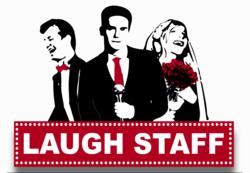 Bohemia, NY (PRWEB) February 25, 2013
On February 25, CBS Cleveland featured Laugh Staff as the savior of brides and grooms, offering speech services by comedian consultants to write the perfect best man speech that's funny, sincere, and tasteful.
According to the CBS Cleveland article, LaughStaff.com: The Answer to Every Best Man's Worst Nightmare, this comedic speech service is no joke. "It's a great mix of up and coming talent in the area along with some more established comics who have headlined clubs and colleges." Currently, Laugh Staff has 12 successful comedians who are new and seasoned with some who wrote for SNL Weekend Update and The Daily Show with Jon Stewart, the article stated.
Recognizing different needs, Laugh Staff offers various packages with prices ranging from $25 to $125 and works with "best men, maids of honor and friends of the bride" to write and deliver the best speech, CBS Cleveland reported.
"Customers can log on and choose different packages and comedians," CBS Cleveland reports. "The comedians will act as consultants and help the customer deliver a speech that is both heartfelt and hilarious."
Josh Womack, Laugh Staff representative, recognizes the importance of having a good speech to avoid the anxiety of speaking publicly. "Weddings are stressful and the last thing the bride and groom want to worry about is a botched toast and that's where we come in," Womack adds. "We offer brides peace of mind because we give our customers access to real comedians to help them tell a story that's humorous, personal, memorable, and appropriate."
Laugh Staff provides speechwriting services to friends and family members of the bride and groom. They assist best men and maids of honor in speech-editing, speechwriting, and provide training on speech delivery. Recognizing the importance of the big day, Laugh Staff's professional comedians work with best men and maids of honor to ensure their speech is memorable.
#####