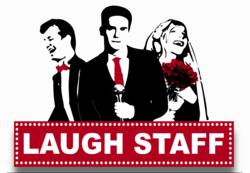 Bohemia, NY (PRWEB) February 27, 2013
On February 27, Laugh Staff comments on a release by Brobible showing footage of Triumph the Insult Comic Dog's appearance at the world's most expensive dog wedding.
The Brobible video is based on footage from Conan on TBS. Conan O'Brien provides an introduction to a Guinness World Record for the most expensive pet wedding. The clip features various people speaking about dog weddings and how important they are to them. A certificate from Guinness World Records was shown as evidence of the event's record holding. Many attendees were given some camera time with their dogs. According to one of the speakers in the clip, no expense was spared in planning the wedding or providing arrangements.
The highlight of the ceremony was the "Rabbi", Triumph the Insult Comic Dog. Throughout the ceremony, Triumph made numerous jokes in line with his name sake. During his funny speeches, the camera panned to show some of the on-lookers and their reactions to the jokes. The reactions of the wedding attendees were varied and the ceremony concluded in traditional Jewish fashion.
Laugh Staff representative, Josh Womack, offered his comment on Triumph the Insult Comic Dog's appearance at the record holding pet wedding. "Whether its man's best friend or the best man, everyone enjoys a few good jokes at a wedding. Triumph the Insult Comic Dog is hilarious and extremely witty. The pet wedding was a record holder, but the appearance by the well known comic icon really made it the best in show."
Laugh Staff provides speechwriting services to friends and family members of the bride and groom. They assist best men and maids of honor in speech-editing, speechwriting, and provide training on speech delivery. Recognizing the importance of the big day, Laugh Staff's professional comedians work with best men and maids of honor to ensure their speech is memorable.
#####