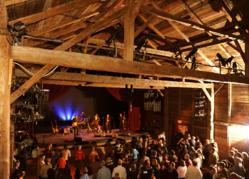 Vienna, Virginia (PRWEB) February 22, 2013
Paul Thorn
Wednesday, March 13 at 8 pm
$24
Former boxer turned bluesy rocker Paul Thorn returns to The Barns at Wolf Trap with his gritty vocals and powerful Southern beats. Thorn's latest album What The Hell Is Goin' On (2012) earned the No. 12 spot on Americana Music Association's Top 100 Albums of 2012. The hit record covers songs by some of his favorite musicians, including Allen Toussaint, Lindsey Buckingham, Buddy Miller, and Ray Wylie Hubbard. What The Hell is Goin' On trails his widely successful record Pimps and Preachers (2010), which peaked at the No.12 spot on Billboard's Independent Albums chart. Thorn is known for his soulful, gospel flavor, which pays tribute to his father, a Pentecostal minister, and his religious upbringing. When not making music, Thorn dedicates himself to overseeing the operations of his self-launched record label Perpetual Obscurity Records.
Video: Paul Thorn – What The Hell Is Goin' On
Tom Paxton
Thursday, March 14 at 8 pm
$24
Folk singer/songwriter Tom Paxton will headline The Barns, showcasing his insightful lyrics and earnest tunes. Hailing from the Greenwich Village scene in New York City, Paxton has been making music for over 50 years. His lyrical works address social injustices, make light of pop culture, and celebrate interpersonal relationships. Paxton's versatile style and musicianship have earned him GRAMMY nominations for the albums Looking for the Moon (2003), Live in the U.K. (2006), and Comedians and Angels (2007), and for his children's album Your Shoes, My Shoes (2002). His extensive musical career was recognized in 2009 with a GRAMMY Lifetime Achievement Award. Popular hits that define Paxton's career include "The Last Thing on my Mind," "Bottle of Wine," "Ramblin' Boy," "The Marvelous Toy," and "Going to the Zoo."
Video: Tom Paxton – Bottle of Wine
Chatham Baroque
The Discovery Series
Friday, March 15 at 8 pm
$35
Described by The Washington Post as "musically impeccable," Pittsburgh-based chamber music ensemble Chatham Baroque arrives at The Barns at Wolf Trap to perform vibrant renditions of 17th and 18th century arrangements. Currently in residence at Cavalry Episcopal Church, the ensemble strives to make classical music more relatable and accessible to today's music lovers by presenting lively performances, sometimes incorporating elements of jazz. Playing the violin, viola, theorbo, and guitar, the trio has released eight albums interpreting pieces from late-Renaissance and Baroque period composers, such as Giovanni Kapsperger, Henry Purcell, and Nicola Matteis. In the past, the trio has toured to the Virgin Islands, South America, Canada, and Mexico and collaborated with The Pittsburgh Opera, Attack Theatre, the Pittsburgh Symphony Orchestra, and Renaissance & Baroque.
BandHouse Gigs'
Tribute to Chrissie Hynde
& The Pretenders
Saturday, March 16 at 7:30 pm
$25
Bethesda-based BandHouse Gigs joins forces with 35 local musicians to recreate the music of '70s rock legends Chrissie Hynde and The Pretenders in a show-stopping performance at The Barns at Wolf Trap. Celebrated for organizing benefit concerts that pay homage to iconic music movements and artists, BandHouse Gigs gathers local and regional acts to produce one-of-a-kind concerts. Recently, the nonprofit's 2008 album A BandHouse Tribute to Nick Lowe, recorded at The Barns at Wolf Trap, was awarded Roots Rock Album of the Year by the Washington Area Music Awards. Since their first tribute to Nils Lofgren in a collective show at Strathmore in 2004, BandHouse Gigs has presented music from Woodstock, the British Invasion, Paul Simon, Joni Mitchell, Bob Dylan, and Neil Young, among others.
Video: BandHouse Gigs – Woodstock Tribute
Tickets can be purchased by calling 1(877) WOLFTRAP; or online at http://www.wolftrap.org.
For more information, call The Barns at Wolf Trap at (703) 938-2404 or our general information line at (703) 255-1900.
###