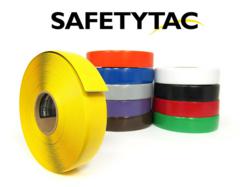 "We have used SafetyTac floor tape for over five years on our gym floors and we have not had to replace any of the tape since using it. It is a great product for gymnasiums!"
Lake Oswego, OR (PRWEB) February 27, 2013
SafetyTac Floor Tape that is now being offered through Creative Safety Supply is not only for use in industrial plants but is a great solution for marking off gym floors both indoors and outdoors. The tough material and aggressive adhesive with dual-beveled edges guarantees the tape will stay in place until it is ready to be removed without sacrificing damage to the wax or finish of the gymnasium floor. The floor tape outshines the idea of painting lines because there is no dry time, cure time, fumes or messy clean up that is involved with painted lines.
Industrial plants with major forklift and truck traffic along with chemicals, greases and pallets have used SafetyTac Floor Tape for marking aisles, pathways and safety areas and have rated the tape as #1 when it comes to outperforming and other type of tape or paint. Gym floors may not experience such extreme harsh wear and tear but it does prove the tape will hold up to foot traffic and extreme sports games that continuously move up and down the court such as basketball, indoor soccer, or handicapped hockey in wheelchairs. The tape can also be used for marking off aisles that will distinguish the court area from where fans can safely walk. The tape is available in bright colors that are ideal for marking bleacher steps to reduce the possibility of accidental slips and falls.
Due to the tape's industrial strength it is scuff resistant, wear resistant and easy to clean making it ideal for gym floors with lots of activity performed on a daily basis. Custodians can clean the floors after games without harming the lines of the tape. As one custodian commented, "We have used SafetyTac floor tape for over five years on our gym floors and we have not had to replace any of the tape since using it. It is a great product for gymnasiums!"
For more information about SafetyTac Floor Tape for gym floor applications, please visit http://www.creativesafetysupply.com/ or call toll-free (866)777-1360 to speak with a professional representative.