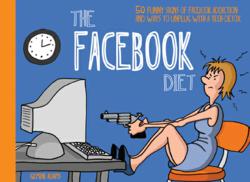 Most of us will struggle to unplug for the duration. And those that do are likely to suffer withdrawal symptoms.
Los Angeles, CA (PRWEB) February 28, 2013
During this year's National Unplugging Day (March 1-2) Americans are encouraged to undertake a digital detox and go tech-free for 24 hours. Being tech-free for a day is an appealing prospect. Yet, says author Gemini Adams, "Most of us will struggle to unplug for the duration. And those that do are likely to suffer withdrawal symptoms."
Adams is an award-winning author and illustrator who has written The Facebook Diet: 50 Funny Signs of Facebook Addiction and Ways to Unplug with a Digital Detox , a new book that offers a tongue-in-cheek look at the problematic side of spending too much time on Facebook. It also features advice regarding how to do a digital detox.
A former Facebook junkie, Adams has first-hand experience of the battle to break away from our digital devices. She says, "We live in an always-on, hyper-connected world. It's virtually impossible to meet with a friend, book a restaurant, buy movie tickets or check the weather without using technology."
Recently profiled by the Huffington Post, Adams offers these National Unplugging Day survival tips:
Start by Stepping Away from the Screen — That doesn't necessarily mean turning it off. Take a break by closing your eyes, looking out of the window or having a chat with a colleague or family member. However you choose to breakaway, make sure it's hourly to wean you off.
Replace the Desire for Info-Toxins — Rather than phantom-reaching for your device to feed your rabid info-addiction, do something that will increase your sense of wellbeing instead. Volunteer, go exercise, pick up a hobby, or just practice breathing out twice as slowly as you breath in—this activates your parasympathetic nervous system which helps reduce stress and withdrawal symptoms.
Plan Your Activities —The likelihood is you'll get caught needing a friends number from your cell phone or that restaurant address from the internet. Make advance bookings and check that you have contact info and addresses to hand.
Go Retro — Pick up a pen and paper instead. Whether it's your to-do list, a thank-you note, or the novel that's been writing itself in your head for the last few years. Writing by hand eliminates all those ADD inducing digital distractions that zap your focus.
Partner Up — Doing any challenge solo can make it harder. So, find a buddy to unplug with, someone who can also hold you accountable to your commitment. Better still, get your community, group or company to take this tech-free break and support each other.
Set Digital Boundaries — Tell people you're going off-the-grid and ask them to respect this by not texting, tweeting, facebooking or messaging you. Consider adding a statement to your emails that explains the hours you'll be accessible via your digital devices.
Read, Relax and Recharge — Pick up your favorite book (not on your iPad or Kindle), a magazine, old letters that you've kept somewhere, or plan a trip into nature: take a map, compass, tent, firewood, food and after 24 hours you'll be clear on just how far we've come thanks to modern technology, or not!