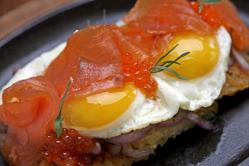 Palm Beach, Fla. (PRWEB) February 25, 2013
Rise and shine with balmy breezes and waves lapping the beach and enjoy a sublime sunrise breakfast. In a splendid palette of coral, pink, orange and blue, guests will celebrate morning as they watch the sun rise out of the ocean, warm the earth and greet the day.
Early risers will be escorted from Temple Orange to the Ocean front Cabana where a breakfast butler welcomes with freshly squeezed juices and citrus cocktails from the fruit and vegetable bar. Warm baskets of house made pastries and breads are served along with steaming cups of coffee while guests ponder their breakfast choices. A la carte menu selections include Temple Orange Signature Skillets; Frittata with Avocado, Tomato, Spinach, Scallions, Low Fat Mozzarella Cheese and Carrot Zucchini Muffin; or Sunny- Side Up, Scrambled with Cheese or Over-Easy eggs, plus other breakfast favorites.
Sassy sides of Cold Cereals, Chef's Fresh Fruit Smoothies or Caviar are also available. A personal chef can be an in-cabana option to create a breakfast hibachi style with choice of eggs, meats and griddle items to include silver dollar pancakes and French toast.
Cabana prices start at $250; plus breakfast, tax and gratuity; a la carte breakfast entrees start at $14. Hours for the Sunrise Cabana Breakfast are sunrise through 10AM; weather permitting and 48 hours notice/ reservations are required. Arrive early for the best view--the concierge can provide a daily updates on the local sunrise times.
For reservations and information about Cabana Sunrise Breakfasts please call 561-540-4924 or for more information about The Ritz-Carlton, Palm Beach, please call 1-561-533-6000 or visit, http://www.ritzcarlton.com/palmbeach
###
About The Ritz-Carlton, Palm Beach
The Ritz-Carlton, Palm Beach is a Forbes Five Star and 2013 AAA Five Diamond Award property, which completed a more-than $130 million transformation in 2009. The beachfront resort welcomes guests with breath taking ocean views immediately upon entry and a gorgeous outdoor terrace with evening ambiance and a fire pit. There are 310 spacious guestrooms and luxurious suites – including the 2,755-square-foot Presidential Suite – and 23,000 square feet of indoor meeting space. Dining options include Angle, a contemporary American supper club; Temple Orange for traditional American/ Mediterranean comfort food; Breeze as a chic burger bistro set ocean side; Oceanfront Cabanas for intimate affairs; Eau Spa Café; and Stir Bar in the lobby lounge for light nibbles and refreshments. The Business Lounge and Resort Cabanas cater to travellers who wish to combine work and play. Eau Spa offers a contemporary take on spa-going and day-long unwinding with a multitude of fanciful treatments, a full-service salon and Eau- fitness Center. For more information visit http://www.ritzcarlton.com/resorts/palm_beach.
About The Ritz-Carlton Hotel Company, LLC
The Ritz-Carlton Hotel Company, L.L.C., of Chevy Chase, Md., currently operates 81 hotels in the Americas, Europe, Asia, the Middle East, Africa, and the Caribbean. More than 30 hotel and residential projects are under development around the globe. The Ritz-Carlton is the only service company to have twice earned the prestigious Malcolm Baldrige National Quality Award, an award that originated in 1987. Its purpose is to promote the awareness of quality excellence, recognize quality achievements of companies and publicize successful quality strategies. The Ritz-Carlton Hotel Company won the award in 1992 and 1999. For more information, or reservations, contact a travel professional, call toll free in the U.S. 1-800-241-3333, or visit the company web site at http://www.ritzcarlton.com. The Ritz-Carlton Hotel Company, L.L.C. is a wholly-owned subsidiary of Marriott International, Inc. (NYSE:MAR).
Contact:
Christine DiRocco
Director of Public Relations
(561) 540-4810
Christine.dirocco(at)ritzcarlton(dot)com