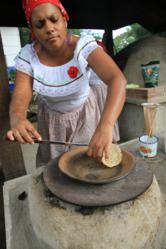 The impact of even the smallest act can travel further than one might ever know.
Seattle, WA (PRWEB) February 26, 2013
My Coffee Farm has formed a Kiva Lending Team--a community of friends and customers of My Coffee Farm that will work with Kiva, a non-profit organization, to facilitate micro-loans to small business owners and farmers in developing nations around the world.
Education and access to capital are two essential ingredients to economic progress, regardless of people, place or culture. My Coffee Farm's commitment to donating textbooks to local schoolchildren is one small step toward the goal of improving lives through education.
To advance the goal of providing access to capital, My Coffee Farm has created a Lending Team for friends and customers to provide loans to individuals and groups of individuals seeking to grow their business. The aim of such loans is to provide not just a means for living, but a pathway to a stronger community.
"I once heard that helping a person may not change the world, but it will change the world for that person. Even the smallest act is like a drop of water that ripples across the pond; you just don't ever know how far the impact travels. That's why My Coffee Farm pairs its business goals with social responsibility." said Peter Mastrantuono, founder of My Coffee Farm.
My Coffee Farm brings individuals a unique coffee experience through personal coffee harvest ownership, while positively impacting the lives of workers and the community connected to their harvest.
Coffee lovers have the opportunity to own the production of trees planted in one of the most highly regarded coffee growing regions in the world—the Dota Tarrazu region in Costa Rica.
With ownership, textbooks are donated, in the owner's name, to local schoolchildren who live in Providencia de Dota, a small community near the farm from which the coffee is harvested. Ownership also helps enrich the lives of workers and their families thanks to a commitment to wages and benefits for the men and women who will care for the harvest.
My Coffee Farm has profoundly changed the coffee experience because Americans can now enjoy the unique taste that comes from a blend of great coffee and personal ownership and which also helps make the world a little bit better--one morning cup of coffee at a time.
To join My Coffee Farm's Lending Team click here
Released by
My Coffee Farm, LLC, P.O. Box 61064, Seattle, WA 98141-6064
Media Inquiries can be directed to Peter Mastrantuono, Owner, at 973-886-6124.