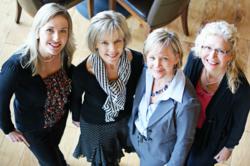 "we've had such positive reaction from women that we believe it fills a gap in the magazine world that tends to cater to the 20 or 30 something's"
Portland Oregon (PRWEB) February 25, 2013
Living Better LLC, DBA Livingbetterat50+ is a lifestyle company that focuses on baby boomer women, to encourage women to live better physically, emotionally, financially and spiritually. They are the publishers of an online woman's magazine: http://www.livingbetterat50.com/, covering popular topics that women love from health, beauty, fashion, home, food, travel, money, business, relationships and faith.
The online magazine was launched March 19, 2011. The founder and part-time Sisters, Oregon resident, Carol Doyel, stated, "The response to our magazine has been great." She added, "We've had such positive reaction from women that we believe it fills a gap in the magazine world that tends to cater to the 20 or 30 somethings, but with a more upbeat and inspirational message and faith-related content that many other online magazines do not."
LivingBetterat50+ is one of 25 concept-stage semifinalists selected by the Oregon Entrepreneur Network's (OEN) 2013 Angel Oregon investment competition, the network announced.
OEN Concept-stage companies, which are in the early stages of development, compete for several prizes and participate in a day-long program to learn about various aspects of business operations. The final competition and half-day conference OEN's Angel Oregon 2013 will be held on Wednesday, April 17, 2013 at The Governor Hotel, Portland, Oregon.
OEN is the largest entrepreneur-assistance organization in the state of Oregon. OEN fosters the flow of entrepreneurial ideas, services, and capital to entrepreneurs and helps connect emerging Northwest businesses to growth-stimulating expertise and valuable resources.
Many supporters believe LivingBetterat50.com is on their way to becoming a premier online magazine, with over 600 contributors worldwide, many who are nationally recognized experts in health, nutrition, fitness, fashion, food/cooking, travel, business/money, and faith that have been featured on national television programs, including Good Morning America, the 700 Club, Oprah, NBC Weekend Today, and Fox & Friends.
Doyel stated that based on their current level of traffic and growth, they are on-target for approximately 250,000 visitors in 2013. With plans to continue to build a strong online brand as well as to develop their offline presence by partnering with other organizations and contributors, they work throughout the United States to participate and provide speakers for women's events and conferences. They also host a weekly blogtalkradio program, "Secrets to LivingBetterat50+" at: http://www.blogtalkradio.com/livingbetterat50.
You can visit LivingBetterat50.com, Facebook, Twitter.