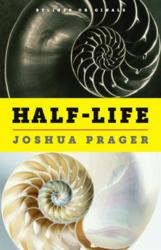 Byliner Publishes Half-Life by award-winning author Joshua Prager
San Francisco, CA (PRWEB) February 25, 2013
In Half-Life: Reflections from Jerusalem on a Broken Neck ($3.99), released today by digital publisher Byliner, Joshua Prager delivers an often agonizing, frequently comic, and always soulful account of a young man's attempt to survive a near fatal injury and recover his formerly carefree existence, only to discover that it is gone forever.
"Am I paralyzed? Am I going to die?" Those were the questions Prager asked a paramedic on May 16, 1990, after the minibus he'd been traveling in during a visit to Israel was blindsided by a runaway truck. At the start of that day, he had been an exuberant, athletic nineteen-year-old, an aspiring doctor and an all-star baseball player who loved the Yankees. A golden future seemed assured. The accident, in which Prager suffered a broken neck, instantly turned his life from "before" to "after."
Prager's determination to make a new life for himself fully bears comparison with Jean-Dominique Bauby's The Diving Bell and the Butterfly, in which a man trapped in his own motionless body overcomes his limitations with a mind and heart free to travel anywhere.
But Prager is no meek paragon of sickroom virtue. He spares no one in his account—not insensitive doctors, not irritable nurses, and not himself. On a trip from the hospital to his childhood home, he struggles to crawl up the steps, despite doctors' orders to stay away from stairs. Eager to date, he must find a way to fend off the pity of potential girlfriends. And yet he is not too proud to make use of the disabled section in order to attend a sold-out Bruce Springsteen concert. To celebrate his "half-life," he wants nothing more than to play a game of catch with his father.
The columnist George Will has lauded Prager for his "exemplary journalistic sleuthing," skills that the now forty-one-year-old writer has applied to recording the highs and lows of his life so far. Rich in literary allusion and bursting with heart, Half-Life is, in the end, less about the loss of physical powers and more about the growth of a mind and an indomitable will.
About the Author: Journalist and author Joshua Prager has written for publications including Vanity Fair, the New York Times, and the Wall Street Journal, where he was a senior writer for eight years. His first book, The Echoing Green, was a Washington Post Best Book of the Year. He has lectured at venues including TED and Google and has received fellowships from the Nieman Foundation at Harvard and the Fulbright Program. He lives in New York City.
About Byliner: Byliner commissions and publishes original stories written to be read in a single sitting. These "e-short" stories are available on phone, tablet, or computer as part of the Byliner subscription service, and can also be purchased individually through the major digital bookstores. Bestselling Byliner titles include Richard Russo's Nate in Venice, Amy Tan's Rules for Virgins, Margaret Atwood's Positron, Jon Krakauer's Three Cups of Deceit, Ann Patchett's The Getaway Car, Nick Hornby's Everyone's Reading Bastard, and Buzz Bissinger's After Friday Night Lights. On Byliner.com, readers get personalized access to an unmatched library of more than 20,000 fiction and nonfiction stories by the world's best writers, allowing them to easily find, read, save, and share new and classic stories by their favorite authors.
Half-Life is available for $3.99 at the Kindle Store at Amazon, as a Quick Read at Apple's iBookstore, a Nook Snap at BarnesAndNoble.com, and a Short Read at Kobo. For an Advance Reading Copy or to schedule an interview with Joshua Prager, please contact Clare Hertel at clare(at)byliner(dot)com; 505-474-6783.