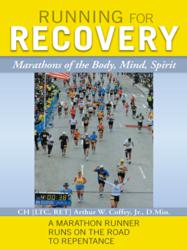 Life's marathons take all of you to overcome – body, mind and spirit.
Staunton, Va. (PRWEB) February 25, 2013
After completing 48 marathons, 44 of them after doctors told him he'd never run again, Army veteran and chaplain Arthur Coffey knows a thing or two about what it takes to overcome challenges.
Coffey is no stranger to struggle: He's faced a near-death accident, a broken family, the heartbreaking loss of jobs and a home, a stark medical and mental prognosis and deep depression. He'd hit "walls" in life similar to those faced in a 26.1-mile competition.
Then one day, he saw the light and truly learned the meaning of the word "recovery."
"In my deepest despair, God showed me the way," said Coffey. "He reversed these and other impossible life conditions, and his Word keeps me moving every day!"
Coffey recounts his story in his new book 'Running for Recovery,' a memoir on how to succeed in both literal and figurative marathons of life and run closer with God.
Coffey won the National Bible Association Witherspoon Award for 'most creative use of Scripture,' which prompted him to write this book. He hopes to show readers how God's Word can make followers alive again.
"I'm a 'wounded healer,'" Coffey said. "I've faced and overcame hardships that have made me able to help others who are struggling. Life's marathons take all of you to overcome – body, mind and spirit – and only God can truly redeem and prepare you for them."
'Running for Recovery: Marathons of the Body, Mind, Spirit'
By: Arthur Coffey
ISBN 978-1-4497-7559-9
Retail price: $27.99
Available at http://www.barnesandnoble.com and http://www.amazon.com.
About the author
Arthur Coffey has a doctorate in holistic healthcare and has been recognized by the by the Armed Forces Chief of Chaplains, National Bible Association, the VA National Headquarters and the Mayo Clinic for his work in using Bible scriptures in creative and medicinal ways. Coffey has completed research on Alzheimer's disease using scripture as the independent variable. He was featured at the 2000 Mayo Clinic Spiritual Care Research Conference as an outstanding presenter. He is currently retired.
###