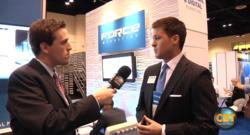 Atlanta, Ga (PRWEB) February 22, 2013
Force Marketing CEO John Fitzpatrick recently met with Car Biz Today's Russell Brown to discuss the way that implementing digital marketing strategies can help dealerships achieve greater success.
Fitzpatrick offered keen insight on the current state of the automotive marketing industry, and highlighted upcoming trends that dealers can expect to see. He also spoke about recent successes he's seen for Force Marketing's clients thanks to digital solutions like email marketing.
"One of the things that is really helping us bridge the gap between our direct mail offering and our digital marketing offerings is really email marketing," said Fitzpatrick.
A combination of a proactive direct mail piece with an email follow-up creates a targeted campaign that will follow a potential customer through the entire process. Force Marketing has found success by integrating email marketing with the effective strategies and services that their clients were already utilizing, like direct mail.
"When we send a direct mail piece to our customers, we believe that consumers really have two mailboxes. They've got their physical mailbox that you're sending the mail piece to, and they've got their virtual mailbox," said Fitzpatrick. Delivering targeted marketing messages to both is the key to developing a successful campaign.
Email marketing is one of many effective digital strategies that Force implements for clients throughout the country. Pay-per-click advertising, search engine optimization and more work alongside traditional marketing channels in a way that speaks to targeted audiences and promotes dealers in a modern way. Said Fitzpatrick, "Combining direct and digital marketing strategies allows dealers to see great returns on investments."
To watch the interview with Fitzpatrick, or to find more insight on automotive marketing, visit http://www.CBTNews.com.
Force Marketing is an automotive direct mail and digital marketing company based in Atlanta, Ga. The company, which provides services to clients spanning the U.S., made Inc. magazine's 500|5000 list of the fastest-growing private companies in the U.S. in 2012 for the fourth consecutive year. More information about their auto dealership marketing services can be found online at http://www.forcemarketing.com.
CBT News/Car Biz Today, is an online news source dedicated to providing the retail automotive industry with news, training and event coverage through various forms of multi-media journalism. The online news source has more than 25,000 subscribers made up of new car dealers and their personnel. CBT News is home to award winning broadcasters and is headquartered in Atlanta, Ga.