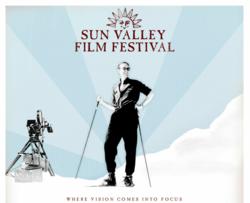 SUN VALLEY, Idaho (PRWEB) February 22, 2013
SUN VALLEY, ID…..Eight new independent narrative and documentary films and two full length world premiere Nat Geo WILD TV shows, have been added to the diverse film line for the upcoming 2013 Sun Valley Film Festival, March 14-17, presented by Zions Bank. These latest editions are added to the rich collection of over 60 features, shorts, student films and music videos to be screened at festival theatre venues in Sun Valley, Ketchum and Hailey.
In a nod to its growing presence on the film festival scene, USA Today has featured the Sun Valley Film Festival as one of the "Ten great places for a fabulous film festival " in today's issue. The article appears in USA Today's Weekend Life travel section as part of the publication's pre-Oscars coverage. "This fantastic exposure to over 3 million readers is clearly a sign the Sun Valley Film Festival is breaking through as a festival not to be missed," said Festival Director Candice Pate.
The complete 2013 Sun Valley Film Festival film schedule will be available on the Festival website at http://www.sunvalleyfilmfestival.org beginning February 26. Festival passes can be purchased online now and individual film tickets will be available for purchase online beginning March 1. The stylish Festival Headquarters, located at 251 Washington in Ketchum, will also open daily beginning March 4 from 11am to 6pm offering information and Festival Passes, individual film tickets and assorted festival souvenirs.
NEW SUN VALLEY FILM FESTIVAL FEATURE FILMS
Please check Festival website for film descriptions, additions and updates: http://www.sunvalleyfilmfestival.org
FEATURE NARRATIVES:
Blackbird
Director/Writer/Producer: Jason Buxton
Producers: Marc Almon, David Miller
Cast: Connor Jessup, Alexia Fast, Michael Buie, Alex Ozerov
"Blackbird" is a film about a troubled teen, Sean Randall, who is falsely accused of planning a Columbine shooting scenario. It all begins when an unlikely bond forms between Sean (Connor Jessup) and a preppy teenage girl named Deanna Roy (Alexia Fast). Deanna's boyfriend is deeply threatened by Sean and Deanna's friendship, resulting in a violent confrontation. Seeking to protect himself, Sean issues a death threat online, and is swiftly arrested. Sean's only hope is to overcome his dark image, and prove his innocence to Deanna and to his community. " Blackbird" is a film that explores the power, and the danger, of social media and cyber-bullying, while showing that the worst prisons are often the ones we create for ourselves.
Chlorine *World Premiere
Director: James Alaimo
Producers: Matt Parker, Chris Beatty
Cast: Vincent D'Onofrio, Kyra Sedgwick, Flora Cross, Michele Hicks, Dreama Walker, Rhys Coiro
A New England family (Lents) grows apart in the materialistic, country club neighborhood of Copper Canyon. When Georgie (Sedgwick) pressures her husband (D'Onofrio) into a real estate deal that goes bad, the social deck in Copper Canyon is reshuffled and the Lent family will never be the same.
DEEP POWDER *World Premiere
Director/Producer: Mo Ogrodnik
Producers: Ben Howe, Pam Koffler, Christine Vachon
Cast: Haley Bennett, Shiloh Fernandez
Worlds collide when Danny, a poor nineteen year-old hockey player, and Natasha, a rich, troubled 17 year-old prep school student fall in love and become involved in a drug run that will change their lives forever.
Kilimanjaro
Director/Writer: Walter Strafford
Producers: Ryan Piers Williams, Jason Berman, Kwesi Collisson
Cast: Brian Geraghty, Alexia Rasmussen, Abigail Spencer, Chris Marquette, Bruce Altman
For years, Doug Collins (late 20s) has been wading through a routine and unsatisfying job and an increasingly miserable relationship. After his girlfriend moves out, Doug pushes himself to live a more fulfilling life starting with a trek to the summit of Mt. Kilimanjaro. Life pushes back. In the face of challenges from every direction, Doug struggles to make his way to the mountaintop.
Much Ado About Nothing
Director/Screenwriter: Joss Whedon
Based on the play by William Shakespeare
Producers: Joss Whedon, Kai Cole
Cast: Alexis Denisof, Amy Acker, Nathan Fillion, Clark Gregg, Sean Maher
Shakespeare's classic comedy is given a contemporary spin in Joss Whedon's film, "Much Ado About Nothing". Shot in just 12 days (and using the original text), the story of sparring lovers Beatrice and Benedick offers a dark, sexy and occasionally absurd view of the intricate game that is love.
FEATURE DOCUMENTARIES:
Battle for the Elephants
Director/Writer/Producer: John Heminway
Cinematographers: Toby Strong, Bob Poole
"Battle for the Elephants" tells the ultimate animal story - how the earth's most charismatic and majestic land animal today faces market forces driving the value of its tusks to levels once reserved for gold. This groundbreaking National Geographic Special goes undercover to expose the criminal network behind ivory's supply and demand. It also demonstrates how the elephant, with its highly evolved society, keen intelligence, ability to communicate across vast distances and to love, remember and even to mourn, is far more complex than ever imagined. More revelations are sure to follow, only if the outspoken and brave crime investigators and conservationists showcased in "Battle For The Elephants" prevail.
Nat Geo WILD's The Wild West *World Premiere
Producer/Writer: Andy Mitchell
Series Producer: Simon Boyce
Narrator: Timothy Olyphant
From the award-winning team behind Great Migrations and Untamed Americas comes Nat Geo WILD's THE WILD WEST, narrated by Justified's Timothy Olyphant. Before cowboys and the gold rush, these were the original outlaws of the West —the truly untamed animals who call America home. In a land where wildlife fights to survive, only the toughest will succeed. Now in a new three-part series premiering in June, Nat Geo WILD cameras explore America's wildlife in the western coasts, deserts and mountains for an intimate look at how the wild animals live, breath and fight to call the western land home.
Nat Geo WILD's Kingdom of the Oceans *World Premiere
Directors: Jacques Cluzaud, Jacques Perrin
Producers: Jacques Perrin, Nicolas Mauvernay
Nearly three-quarters of Earth is covered by water, yet surprisingly little is known about the incredible marine life that inhabits our oceans. From tropical waters to icy glaciers, from the deepest depths of the ocean floor to its sun-kissed surface, millions of resilient, remarkable and utterly bizarre creatures call the oceans home. This is Kingdom of the Oceans. Nat Geo WILD dives into the planet's waters for a breathtaking look at the splendor of the underwater world. Shot at over 50 locations and with eighty different species, this four-part, high-definition special offers a visual feast of natural history cinematography. Come face-to-face with creatures of every shape size and color. Experience the thrill of the chase as predators stalk their prey. Our cameras splash to the depths of the seas to bring viewers one-step closer to understanding the great watery unknown.
SOMM
Director/Producer: Jason Wise
Four sommeliers attempt to pass the prestigious Master Sommelier exam, a test with one of the lowest pass rates in the world.
The Summit
Director/Producer: Nick Ryan
In August of 2008, 24 climbers converged on High Camp of K2, the last stop before the summit of the most dangerous mountain on Earth. 48 hours later, 11 had been killed or simply vanished into thin air. At the heart of The Summit lies a mystery about one extraordinary man, Ger McDonnell. Faced with a heart-breaking dilemma, he stumbled onto a disastrous scene. When a climber falls or wanders off the trail, the unwritten code of the mountain is to leave them for dead. Had Ger McDonnell stuck to the climber's code, he might still be alive.
About the Sun Valley Film Festival:
The 2nd annual Sun Valley Film Festival, March 14-17, will feature a curated slate of over 60 cutting edge films and TV premieres, engaging coffee talks with industry insiders like Hollywood legend Jodie Foster, fabulous parties with top entertainment including indie rock legends Built to Spill, a Screenwriter's Lab led by Independent Spirit Award nominee Will McCormack, and a spectacular Alaska Airlines Closing Awards Après-Ski Ceremony. This spring, filmmakers from around the world will bring their vision to the Sun Valley Film Festival and movie lovers are invited to watch it come into focus. For Festival details and tickets: http://www.sunvalleyfilmfestival.org. Get Festival updates on Facebook and Twitter.
The 2013 Sun Valley Film Festival is presented by Zions Bank. Major sponsors include Alaska Airlines, Nat Geo WILD, Sun Valley Resort, Tito's Handmade Vodka, SVPN, and InkTip.
Contact: Carol Waller, CW Communications, carol@cw-communications.com, 208-720-3965