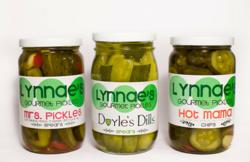 "We take pride in our product and it is our goal to share it with the masses."
Tacoma, WA (PRWEB) February 24, 2013
Tacoma-based gourmet pickle company, Lynnae's Gourmet Pickles announced today new retailers that carry the Lynnae's Gourmet Pickles line. As a result of recent partnership with KeHE Distributors, the largest specialty U.S. distribution company, Lynnae's Gourmet Pickles is now available in select stores throughout the Midwest and East Coast. Until recently, Lynnae's Gourmet Pickles products were available only in select Washington, Oregon, California, Arizona and Texas stores.
Lynnae's Gourmet Pickles will continue working with KeHE to add more stores and markets throughout the year. The newest additions include specialty food and grocery stores around the country.
"It has been a pleasure working with KeHE to bring our product to untapped markets," said Lynnae Schneller, President and Founder of Lynnae's Gourmet Pickles. "We take pride in our product and it is our goal to share it with the masses."
The new markets and stores include:

Alabama – Papa Joe's, Piggly Wiggy and Western Supermarts
Cayman Islands – Hurley's Market
Florida - Grass Roots
Illinois - Joe Caputo & Sons
Kansas – Akins
Minnesota - Village Market and Corner Market
Missouri – Papa Joe's and Akins
Nebraska – Akins
New York - Gourmet Garage
Ohio - Jungle Jim's and Weiland's
Oklahoma - Petty's Fine Foods and Akins
Texas - Central Market
Wisconsin - Jenifer Street Market
Lynnae's Gourmet Pickles are all-natural and hand-packed pickles that feature Lynnae's secret family recipe. The recipe spans three generations and all ingredients including the spices are fresh - used throughout the entire pickling process minus any dyes or added preservatives. They come in three flavors: Mrs. Pickles – a sweet and sour dill (chips and spears), Hot Mama – sweet and sour dill with a kick of jalapeño (spears and chips), and Doyle's Dill – a classic deli dill (spears). They are available in select stores and on the website http://www.lynnaesgourmetpickles.com and are priced at $7-$9 a jar.
About Lynnae's Gourmet Pickles
Established in 2011 and headquartered in Tacoma, Washington – Lynnae's Gourmet Pickles is a family owned business specializing in all-natural and hand-packed gourmet pickles. For years Lynnae Schneller, President of Lynnae's Gourmet Pickles had been making pickles for family and friends during holidays and other special occasions. What started as a hobby in the kitchen of her home, has grown into a successful commercial business.