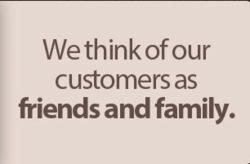 Ellicott City, MD (PRWEB) February 26, 2013
A&J Floor Coverings, a family-owned business providing flooring and carpet sales in Ellicott City, Maryland, has partnered with Selective Gift Institute, Inc. to launch a customer loyalty program.
The program rewards new and current customers who make a flooring purchase of $1,500 or more or refer a friend, provided the referral results in a sale. "We appreciate our customers for doing business with us and this loyalty program is just one of the ways we can show how much we care," said Mark Schlossberg, owner of A&J Floor Coverings.
For a qualifying purchase and a referral, a customer will be able to claim a $100-level prize or a $50-level prize, respectively. Prizes can be selected from an online catalog that features a variety of products from household appliances and cookware to home décor items and small electronics.
"Instead of settling on one prize, we've decided to give our customers many prize options to choose from to make sure everyone finds something they want or need," shared Schlossberg. He added that this bonus gift is a great way to add to the excitement of getting new flooring.
Qualifying customers will receive a reference code and login information granting them access to the wide selection of available prizes. They will have 30 days to choose the prize and place an order, which will ship within two weeks.
According to a predication by Forbes Magazine, loyalty programs have been popular throughout 2012, but are expected to really take off in 2013. "The new loyalty program fits well with our company's image – a small, family-owned business with a passion for what we do and a family-like treatment of our customers," explained Schlossberg.
A&J Floor Coverings provides a wide range of floor coverings, including tile, hardwood and vinyl, as well as carpet sales in Columbia and Ellicott City. "We are large enough to offer the best selection of products and services the industry has to offer, but small enough to offer great prices and work one-on-one with each customer," commented Schlossberg.
About A&J Floor Coverings
Serving the community since 1977, A&J Floor Coverings provides a wide variety of flooring services to commercial and residential customers throughout Maryland. Laminate, carpet, hardwood, vinyl, wood, bamboo, and cork are some of the materials A&J Floor Coverings employees are proficient in handling. For more information, please visit our website at http://www.ajfloorcoverings.com.