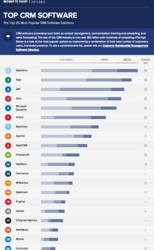 With nearly 400 solutions to choose from, finding the top 20 is no easy task.
(PRWEB) February 26, 2013
Capterra, an online service that connects buyers and sellers of business software, released a new infographic today highlighting the Top 20 Most Popular CRM Software. Salesforce, Sage and SAP claimed the top 3 spots.
"Infographics may not be brand new anymore, but the data we are presenting is new, and, to our knowledge, has not been compiled anywhere else on the web," said Capterra President and CEO Michael Ortner. "With nearly 400 solutions to choose from, finding the top 20 is no easy task."
In 2012, Capterra hosted the first ever CRM Madness competition. Sixty-four leading CRM software solutions went head-to-head in a March Madness-style bracket. The CRM solutions were compared using company metrics and fan voting.
"This year we wanted to be more objective and took voting out of the equation" said Ortner. "The popularity index only takes into account company metrics, so it's a much more accurate picture of the market."
The popularity index ranks CRM software providers based 40% on the number of organizations who use the software, 40% on the number of users, and 20% on the company's social presence. The goal of the infographic is to help businesses begin to make sense of the hundreds of software options available.
CRM is one of the most popular business software applications and is estimated to have over a $10 billion dollar market share. The software allows organizations to develop better relationships with their clients throughout the customer lifecycle. CRM helps to ensure proper and timely customer interaction, support and relationship management.
About Capterra
At Capterra, we believe software makes the world a better place. That's why we love connecting buyers and sellers of business software. Our website shows companies all of their options and provides free tools to help them make the right decision. We provide software companies with a free listing on our comprehensive directory and give them the opportunity to upgrade for more exposure. For more information, visit http://www.capterra.com.