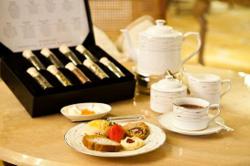 "There are few hours in life more agreeable than the hour dedicated to the ceremony known as afternoon tea." H. James
Palm Beach, FL (PRWEB) February 28, 2013
In place of the harried coffee break or venti to-go caffeine jolt, The Ritz-Carlton, Palm Beach brings back a traditional favorite with a modern interpretation. Gone are the stuffy "high tea" nuances and highbrow attitude of afternoon tea. "The Tea Affair" at Stir is the perfect respite for afternoon tea break--a true version of the European classic.
Guests can languish and linger in the sumptuous living room style lobby, relax at the oceanfront terrace or settle in at Stir Bar. "The Tea Affair" is a low tea consisting of teas and simple treats. An individual plate of delicate sweets—Florida Orange and Red Velvet Whoopee Pie; Cranberry scone, Banana Nut Bread, and a Chocolate Dipped Strawberry are accompanied by a dollop of each Devonshire cream, Temple Orange Marmalade and Raspberry Preserves and of course, the guest of honor, tea.
The fragrant, all natural, black, white and green teas are presented from a regal box of all loose leaves packed up in mini test tubes. In true sommelier fashion, the guest pops the cork to experience the "nose" of the tea and then makes a selection. Flavors of tea vary from Earl Grey Organic and Orange Jasmine to Green Tea Passion accented with tropical fruits of guava and pineapple to fragrant teas like African Amber, Rooibos leaves with hibiscus and African exotic fruit and Ginger Twist with notes of Australian ginger, orange, lemon, lemongrass, wintergreen mints and fruits.
Reservations are not required, as this tea party is part of the afternoon menu at Stir, along with light bites, appetizers, cocktails and coffees. Hours for the Tea Affair are 2:30 – 4:00PM daily and pricing is $17. For more information about The Ritz-Carlton, Palm Beach, please call (561) 533-6000 or visit http://www.ritzcarlton.com/palmbeach
About The Ritz-Carlton, Palm Beach
The Ritz-Carlton, Palm Beach is a Forbes Five Star and 2013 AAA Five Diamond Award property, which completed a more-than $130 million transformation in 2009. The beachfront resort welcomes guests with breath taking ocean views immediately upon entry and a gorgeous outdoor terrace with evening ambiance and a fire pit. There are 310 spacious guestrooms and luxurious suites – including the 2,755-square-foot Presidential Suite – and 23,000 square feet of indoor meeting space. Dining options include Angle, a contemporary American supper club; Temple Orange for traditional American/Mediterranean comfort food; Breeze as a chic burger bistro set ocean side; Oceanfront Cabanas for intimate affairs; Eau Spa Café; and Stir Bar in the lobby lounge for light nibbles and refreshments. The Business Lounge and Resort Cabanas cater to travellers who wish to combine work and play. Eau Spa offers a contemporary take on spa-going and day-long unwinding with a multitude of fanciful treatments, a full-service salon and Eau- fitness Center. For more information visit http://www.ritzcarlton.com/resorts/palm_beach.
About The Ritz-Carlton Hotel Company, LLC
The Ritz-Carlton Hotel Company, L.L.C., of Chevy Chase, Md., currently operates 81 hotels in the Americas, Europe, Asia, the Middle East, Africa, and the Caribbean. More than 30 hotel and residential projects are under development around the globe. The Ritz-Carlton is the only service company to have twice earned the prestigious Malcolm Baldrige National Quality Award, an award that originated in 1987. Its purpose is to promote the awareness of quality excellence, recognize quality achievements of companies and publicize successful quality strategies. The Ritz-Carlton Hotel Company won the award in 1992 and 1999. For more information, or reservations, contact a travel professional, call toll free in the U.S. 1-800-241-3333, or visit the company web site at http://www.ritzcarlton.com. The Ritz-Carlton Hotel Company, L.L.C. is a wholly-owned subsidiary of Marriott International, Inc. (NYSE:MAR).
Contact:
Christine DiRocco
Director of Public Relations
(561) 540-4810
Christine.dirocco(at)ritzcarlton(dot)com