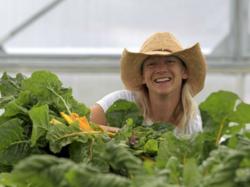 We were thrilled to hear Clara would be the keynote speaker at this year's winter conference," Bob Rimol said. "This is why we decided to partner with Clara as our new four-season farming specialist; to inspire next generation farmers.
Hooksett, NH (PRWEB) February 27, 2013
On Saturday, February 16th, Rimol Greenhouse System's four-season farming specialist,Clara Coleman was the keynote speaker at the Northeast Organic Farming Association of Vermont (NOFA-VT) 31st Annual Winter Conference in Burlington, VT. Coleman, daughter of renowned farmer and author Eliot Coleman, delivered an inspiring speech titled "Back to My Roots, Forward to the Next Generation". The speech described her journey from reluctant protégé to a next generation four-season farmer, farm consultant, farm speaker and enthusiast.
"I am here to talk about three things" Coleman said, during her speech, to a packed ballroom of over 900 people. "One, to honor the passion that brought us here today, two, to respect the challenging work that it takes to own or run an organic farm and three, to offer a way of seeing ourselves in the future that allows us to discover our authenticity and become more resilient as we move forward into the next generation of farming communities."
The NOFA of Vermont's 2013 Winter Conference centered on the theme 'Generations of Innovation' and brought together over 1,500 local food enthusiasts. For three days, participants had the opportunity to attend over 70 diverse workshops and intensive seminars. Other highlights from the conference include: the second annual seed swap, a collective art project with local art legend Bonnie Acker, and networking opportunities with commercial growers, gardeners, homesteaders and organic eaters.
"We choose Clara as our keynote since she embodies the conference theme so perfectly. 'Generations of Innovation' highlighted both the innovative work of our most beloved food producers and the younger farmers, gardeners, and homesteaders who continue the work of those who've plowed the way," Olga Moriarty, Winter Conference Coordinator of the NOFA VT Winter Conference, said. "Clara spoke with a unique perspective of growing up in her father, Eliot Coleman's, large boots - trying to find an innovative farming model of her own."
"We were thrilled to hear Clara would be the keynote speaker at this year's winter conference," Bob Rimol, founder of Rimol Greenhouse Systems of Hooksett, NH, said. "This is why we decided to partner with Clara as our new four-season farming specialist; to inspire future generations of farmers. Creating a more sustainable future has always been a part of Rimol Greenhouse Systems' mission. The more Clara can connect with other local farmers in New England, the more we are doing our part in creating a more sustainable future."
Next, Rimol Greenhouse Systems will be exhibiting at the Harvest New England Agriculture Marketing Conference and Trade Show in Sturbridge, MA from Wednesday, February 27 through Thursday, February 28th.
For more news and information on Rimol Greenhouse Systems visit http://www.rimolgreenhouses.com/.
About Rimol Greenhouse Systems: In 1994, Bob Rimol, owner of Rimol Greenhouse Systems, decided to leave his home state of New Jersey and relocate with his young family to New Hampshire. Bob began working as a greenhouse manufacturer's representative specializing in structures and systems. However, he soon realized the need to "build a better mousetrap" and set out to customize greenhouse technology in order to better suit the needs of his customers. Bob then founded Rimol Greenhouse Systems in order to provide innovative and quality greenhouse technology for local growers.
Rimol Greenhouse Systems has since developed a number of free-standing greenhouses, benches and an entire line of products to complement the greenhouse structures. Other structures include the movable The Rolling Thunder™, high tunnels, and hydroponic systems. All Rimol Greenhouses are designed to be economical, yet rugged enough to handle the harshest snow and wind conditions experienced in New England and many other regions of the country.
Today, Rimol Greenhouse Systems has become a major greenhouse manufacturing company and has developed a brand name synonymous with quality. Although the company has grown and expanded, Rimol Greenhouse Systems still ensures that it is meeting the individual needs of every customer. Rimol products can be found all across the United States.
Clara Coleman Bio: Clara Coleman, is a second-generation American organic farmer; consultant and speaker on four-season farming techniques and daughter of renowned farming pioneer Eliot Coleman. For three years, she created and operated a successful intensive 2-acre vegetable farm known as Divide Creek Farm located in the Rocky Mountains of Colorado. She produced year-round vegetable crops under harsh winter conditions, using unheated and minimally heated moveable high tunnels. Like her father, she is a proponent of the 'small is better' model of farming, advocating business growth through improved efficiency, innovative production methods, farmer collaboration and direct customer marketing, rather than physical expansion.
In 2011, Coleman founded Clara Coleman Four-Season Farm Consulting. One of her clients includes Wegmans Food Markets where she helps to implement four-season farming techniques and methods on their organic farm in upstate New York. Currently she resides in Portland, Maine with her two sons and is focused on four-season farm consulting and speaking engagements nationwide as a means to inspire and encourage the next generation of farmers.