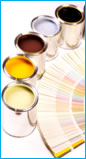 Through our partnership with SpecialChem we intend to leverage over 110,000 paints, coatings and inks specifiers
CRANBURY, NJ, US (PRWEB) February 27, 2013
Rhodoline® FT and Rhodoline® OTE are the new innovative patented technologies for enhancing Freeze/Thaw and Open Time performance, respectively, in low- to zero-VOC (volatile organic compounds) waterborne coatings:http://www.specialchem4coatings.com/tc/solutionsdatasheet.aspx?t=1189&lr=prw
SpecialChem will support SOLVAY in its business development strategy in waterborne Architectural Coatings. SpecialChem's customized Commercial Acceleration Solutions will help to bring speed and market reach, and act as an extended arm of SOLVAY business development team. The purpose of this collaboration is to educate and identify active projects at Formulators in the Coatings industry.
"We are seeing the market interest in Rhodoline® FT-100 and OTE-500 begins to accelerate as formulators look for sustainable ways to reformulate to zero VOC yet maintain freeze/Thaw and open time performance. Through our partnership with SpecialChem we intend to leverage over 110,000 paints, coatings and inks specifiers. This will allow us to engage a much broader customer base into evaluation projects with this exciting technology." said Simon Mawson, Global Director of Rhodia's Coatings business.
About SOLVAY
SOLVAY is an international chemical Group committed to sustainable development with a clear focus on innovation and operational excellence. Its recent acquisition of specialty chemicals company Rhodia created a much larger player, which is realizing over 90% of its sales in markets where it is among the top 3 global leaders. Solvay offers a broad range of products that contribute to improving the quality of life and its customers' performance in markets such as consumer goods, construction, automotive, energy, water and environment, and electronics. The Group is headquartered in Brussels, employs about 30,000 people in 55 countries and generated EUR12.6 billion in sales (pro forma) in 2011.
About SpecialChem
SpecialChem accelerates Technology and Business Development in Chemicals and Materials. Since the year 2000, our teams of industry experts have created the world's largest online professional network dedicated to chemicals and materials. This network includes more than 500,000 engineers, formulators, product developers, marketers, applicators and brand owners across the globe. Through our vertical industry websites, these professionals have unlimited access to content and services dedicated to Product Selection, Innovation Watch, Online Courses and Open Innovation.
Our network of profiled members plus the visits of more than 3.2 million professionals per year to our websites are unique assets for chemicals and materials suppliers in search of Commercial Acceleration Solutions (launching new technologies / new products, penetrating new applications / new geographies or extending their market reach) and for professionals in Open Innovation scouting new technologies or looking for out-licensing opportunities that are related to chemicals and materials.
Contacts:
SOLVAY
Press Contact North America - Camille Thomas: camille.thomas (at) solvay (dot) com
Business Contact: Simon Mawson: simon.mawson (at) solvay (dot) com
SpecialChem:
Emmanuel Rapendy
Marketing Director, SpecialChem
commercial-acceleration (at) specialchem (dot) com
+33 1 72 76 39 29
Source: SpecialChem / Solvay